Meet Dr. Colette Pierce Burnette, President & CEO of Newfields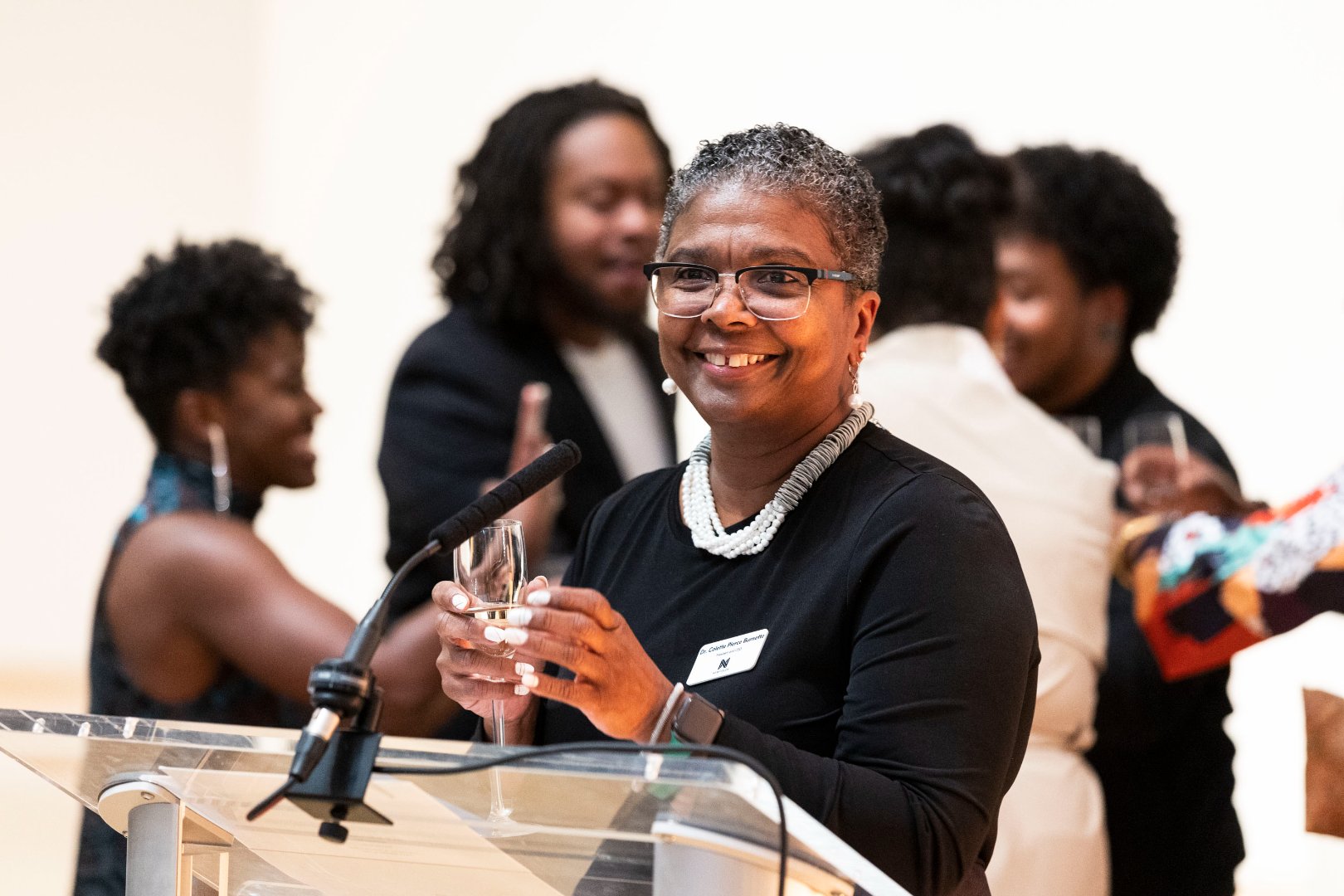 Dr. Colette Pierce Burnette has a rare combination of warmth, authenticity, and grit that situates her as a unique and exceptional leader. Her journey to becoming President & CEO of Newfields was not linear, or predictable, but in many ways is a natural progression and a perfect fit. A people-person at her core, a community builder, and a vessel for change.
Dr. Colette Pierce Burnette grew up in Cleveland, Ohio to a huge family in a Black working-class neighborhood. Her father Colon was one of 18 children. He moved from Mississippi to Ohio during the Great Migration in search of a better life. Ruth, her mother, was one of three children, the oldest and only girl. She describes her mother as her "ultimate shero and her parents as the smartest people she knows." Together Colon and Ruth Pierce had two daughters, Colette and Julie. Julie, Dr. Burnette's little sister, is her best friend, confidante, and sorority sister.
She credits her grit, determination, and spirit to her environment, the good and the bad. It takes a village. And hers ignored the social determinants that so easily could have held her back. She attended The Ohio State University and earned her degree in Industrial and Systems Engineering. She climbed the corporate ladder, eventually reaching what she calls the glass—or concrete—ceiling for Black women.
While working her way up the ladder at Procter & Gamble, she met her eventual husband, Daarel, at a nightclub. He had a 21-year career as a Second Lieutenant in the United States Air Force. They have two grown children, Daarel "D" and Daana, who attended 13 schools as a result of his career.
When asked what makes her heart smile, she gently said, "My children. I am very proud of the people they are." Her son Daarel "D" is a senior editor at The Chronicle of Higher Education in Washington, DC. Her daughter Daana is a Senior Events Manager for Amazon Studios in Los Angeles, CA. She has two granddogs—Cassius and Sargeant.
Dr. Daarel and Dr. Colette Pierce Burnette at their wedding.

Dr. Colette Pierce Burnette with her children, D and Daana.
Her corporate career led her to Washington state where she was responsible for the IT systems that made the Department of Transportation run. The job came with tremendous power and responsibility but didn't leave her feeling fulfilled. Higher education was calling her name.
She reflected in a speech delivered at the Martin University First Lady's Tea this fall, "I felt a responsibility to little me's, I had been in a white male-dominated environment my entire career. Like entrepreneur Jim Rohn said, 'I had to learn through passion and emotion, how to be strong but not rude, kind but not weak, bold but not bully, humble but not timid, proud but not arrogant.' These are skills I needed to share."
In 1999 she began her career in higher education at Central State University. Again, she worked her way up the ladder. And again, a glass ceiling. At 55 years old, she enrolled in the doctoral program at the University of Pennsylvania and earned her EdD in higher education. Soon after, she landed her dream job. President and CEO of Huston-Tillotson University, a private, historically Black university in Austin, Texas.
In 2021, after a successful seven-year tenure at Huston-Tillotson she took advice from a beloved mentor and left the party while she was having fun. It was time for her next adventure, a leap of faith. A connection led her to the national search for the President & CEO position at Newfields. It was a perfect opportunity to lean into her innate community-building skills, paired with her passion for education.
She is the right person for the job at the right time. Friend of Newfields, Elizabeth Kraft Taylor said, "Dr. Burnette is thrilled to be in Indianapolis and at Newfields and it shows! Her beaming smile and sparkling eyes are testament to her feelings. Those things never change as she moves from one gathering to another both teaching and learning the community. Her laugh is infectious, but her ears are her best feature because everyone she meets feels heard."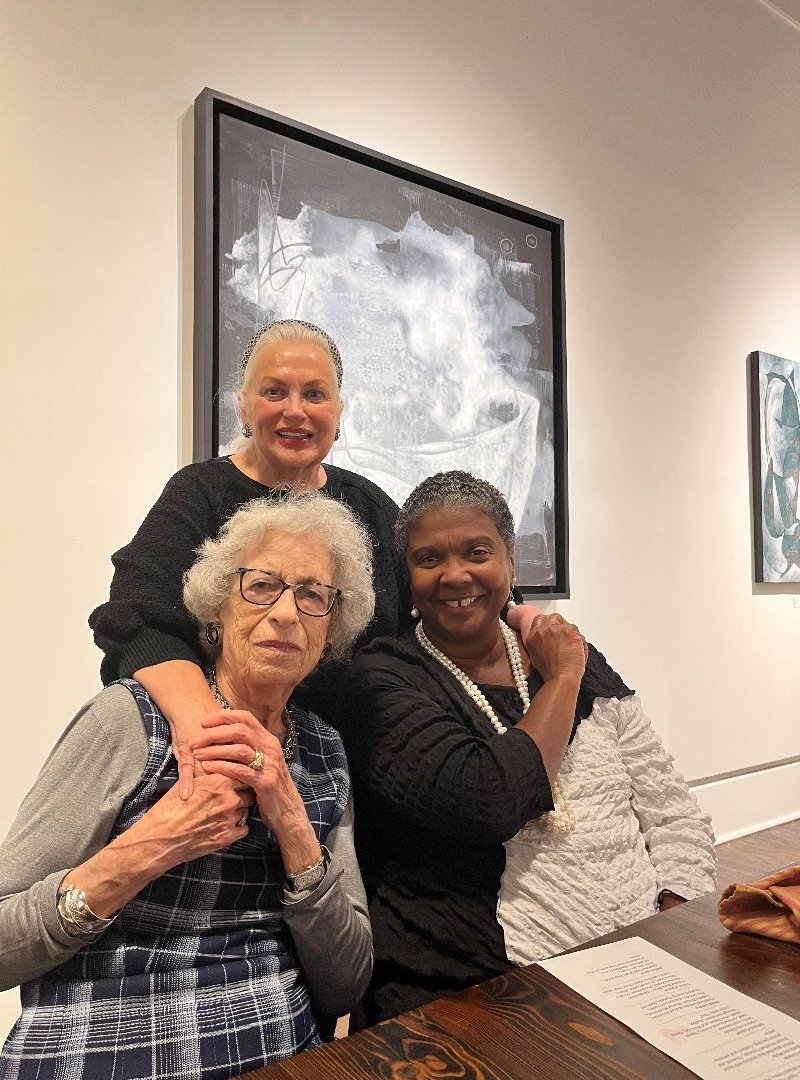 When people describe her, the same words and phrases are repeated: authentic, genuine, fun. Dr. Burnette is the kind of person she calls a North Star. She lives on purpose and out loud, you'll find her on the dance floor when the band is playing and celebrating everything life has to celebrate with a glass of champagne. She is quick with a joke, a colleague whispered to me, "She missed her calling in stand-up." Her former colleague and friend, Wayne Knox, confirmed it's not just first impressions, "She makes people feel good about themselves, makes them feel whole."
IMAGE CREDITS:
Dr. Colette Pierce Burnette, President & CEO of Newfields at the ehibition opening for We. The Culture: Works by The Eighteen Art Collective.

Dr. Daarel and Dr. Colette Pierce Burnette at their wedding.

Dr. Colette Pierce Burnette with her children, D (left) and Daana (right).

Dr. Colette Pierce Burnette (front right) with Elizabeth Kraft Taylor (back) and Dorit Paul (front left).