The Art of Art in Bloom presented by Fifth Third Private Bank
Winter is still in full swing in Indianapolis, but Newfields is looking ahead to spring where the IMA Galleries and The Garden will come to life with a spectacular show put on by Mother Nature and talented horticulturists and florists. To kick things off, Art in Bloom presented by Fifth Third Private Bank will bring 27 talented floral artists to the IMA Galleries where they will design breathtaking arrangements inspired by art in the galleries. This year, there will be 22 arrangements throughout the IMA Galleries with five additional large-scale arrangements. Here is a little bit of background on the five major showstoppers that will give you a great foundation for what you'll see when you arrive the last weekend in March.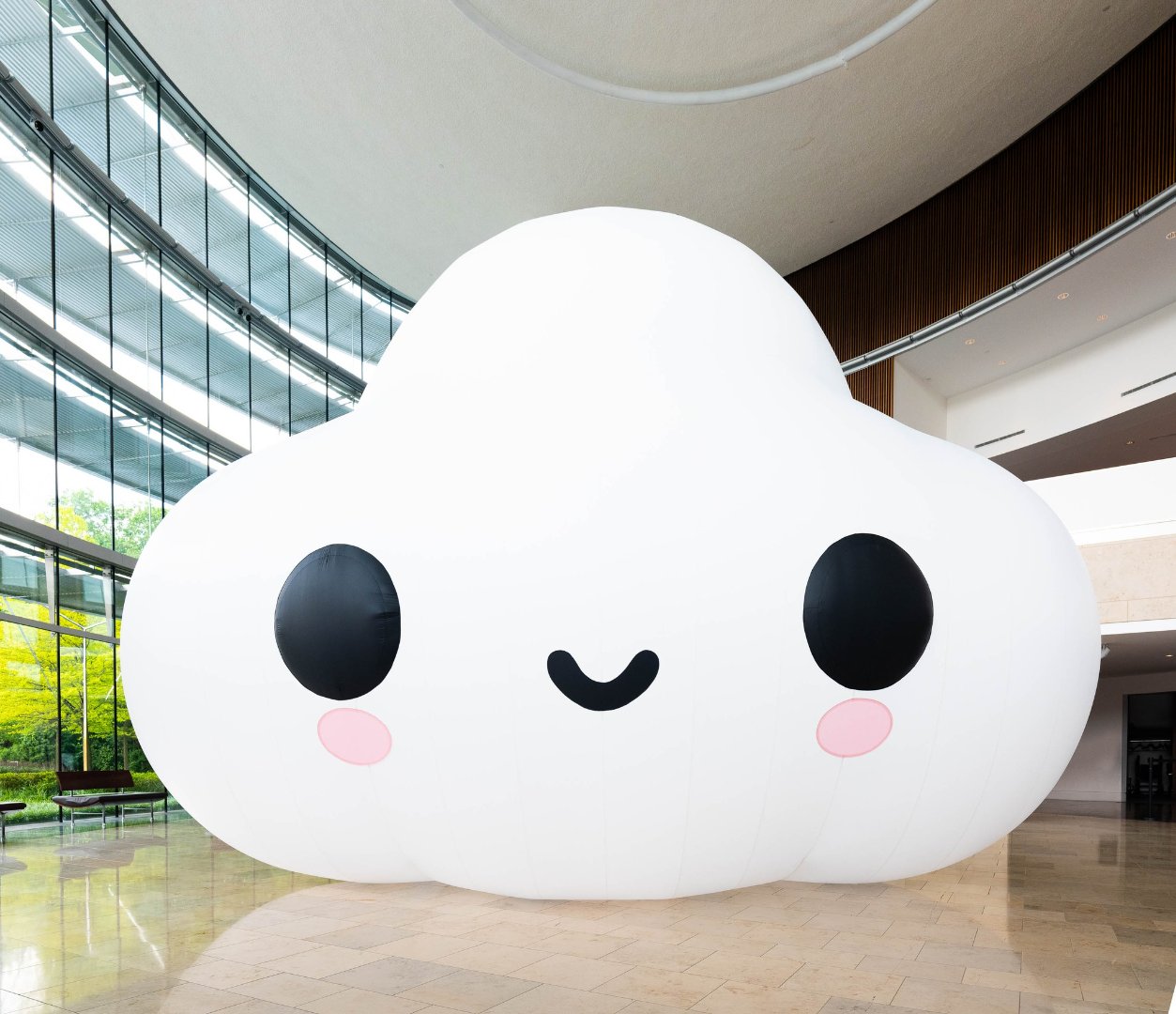 FriendsWithYou, Happy World: On A Cloud in the Efroymson Family Entrance Pavilion
If you have been to the Indianapolis Museum of Art in the last six months, you have been welcomed inside by the ever-cheerful Little Cloud. Little Cloud is the work of Samuel Borkson and Arturo Sandoval III, collectively known as FriendsWithYou. They hope the smiling inflatable sculpture brings a message of hope and admiration for nature's wonders to guests as they enter.
Fun Fact: An art collective is a group of interdisciplinary artists who work together on the same projects, similar to a band of musicians. Other art collectives who have recently been shown at the IMA are Studio Drift with Meadow in 2019 and Cracking Art with their animals in 2017.
Fletcher Benton, Folded Circle Dynamic Red Phase III, in the Pulliam Great Hall
Acquired in 2020, this commanding red sculpture can't be missed. It is bright red painted aluminum and weighs 3,600 pounds. The abstract sculpture is a homage to the ancient Greek sculpture Polykleitos. The shape and scale of the work called attention to the importance of spatial orientation and understanding of form.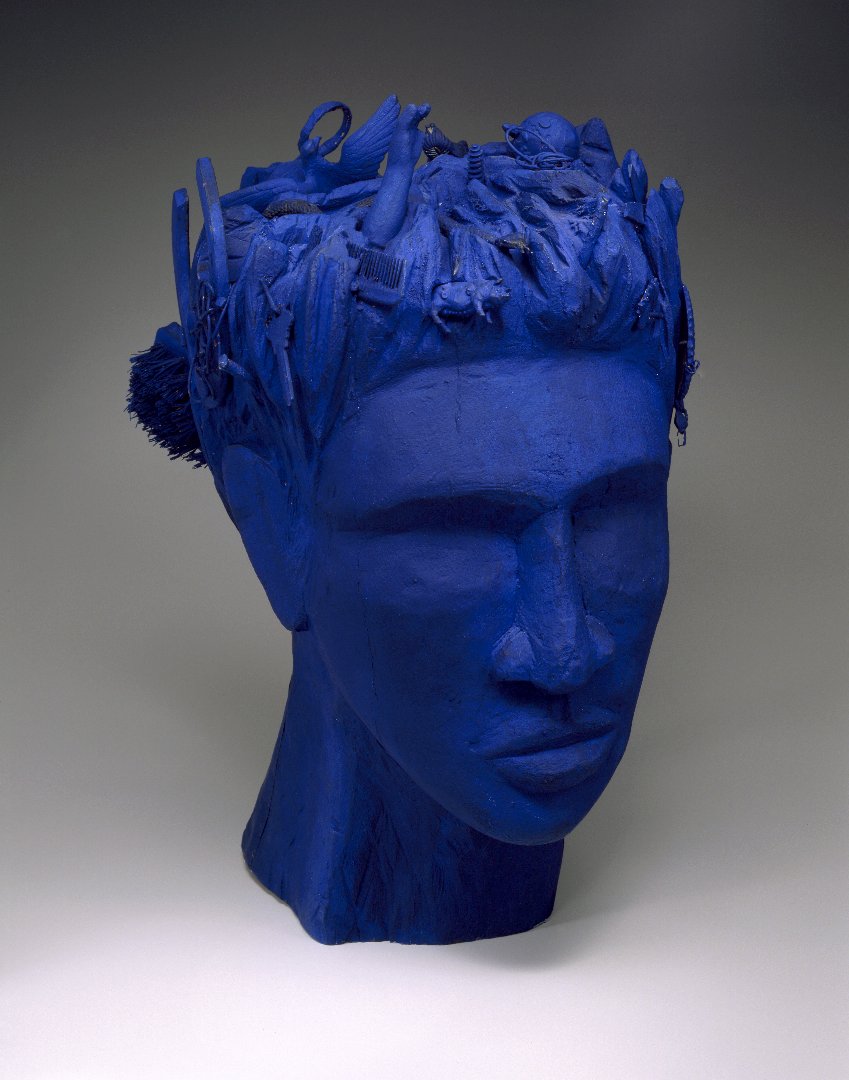 Alison Saar, Nappy Head Blues in Embodied: Human Figures in Art on Floor 2
Alison Saar's Nappy Head Blues reconditions a derogatory term for Black women's hair to build an empowered biography for the fictional subject of her youth, representing her lived experiences, dreams and how she hopes to be perceived. Made of wood and found objects and painted a striking cobalt, the sculpture is sure to inspire a stunning arrangement.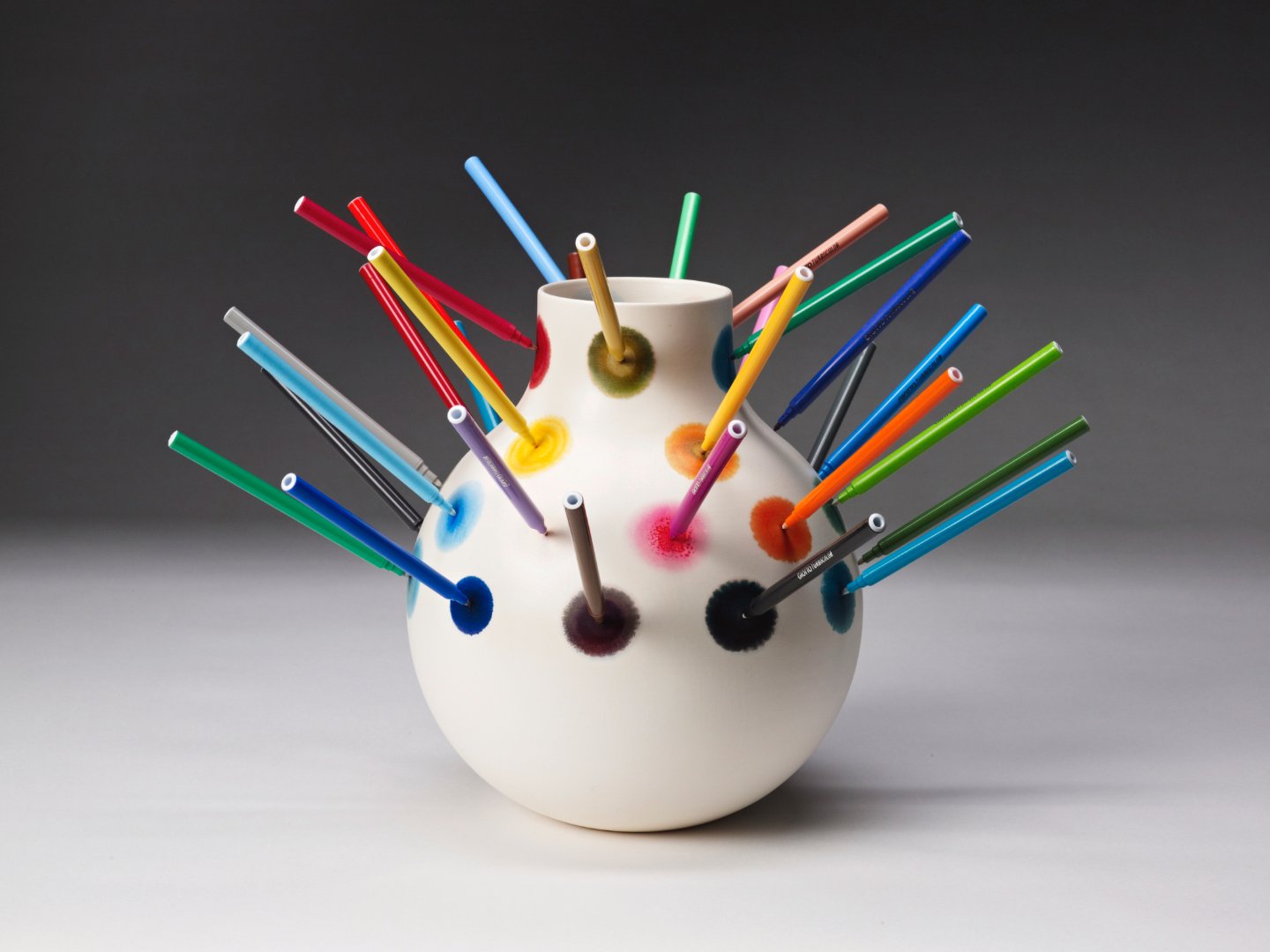 Fernando Brizio, Painting a Fresco with Giotto #3 in the Design Gallery on Floor 3
Portuguese artist and product designer Fernando Brizio took inspiration from the unsightly ink stains felt tip markers left on his shirt pockets when conceiving of this brightly colored vase. The leaking pens are absorbed by the faience, a type of ceramic. The colors were left up to fate and have evolved over time, just like the flowers in the Art in Bloom arrangement are sure to do.
Italian, Fountain in the soon-to-open Clowes Pavilion on Floor 2
After a nearly four-year renovation, the Clowes Pavilion is finally open again to the public. The 19th century Italian fountain, a central feature of the Pavilion since its inauguration 50 years ago, will delight visitors when overflowing with flowers for Art in Bloom.
There will be loads more to do and see for the weekend of Art in Bloom. Find the complete schedule and a map with where to find each coupling here.
Art in Bloom presented by Fifth Third Private Bank is included with general admission and free to members. Advance tickets are required.
EXHIBITION CREDIT:​​​​​​​​​​​​​
Art in Bloom is presented by Fifth Third Bank. Lead support is provided by Barnes & Thornburg LLP, Joanna & Miles Batchelor, Meg Coyle, and National Coalition of 100 Black Women, Indianapolis Chapter. Pedestal support is provided by Browning Day, Jane Farber, Marni Fechtman, Tim & Brenda Foster, Gene B. Glick Company, Kwan & Hsin Hui, Mindy Hutchinson & Rob Friedman, Indianapolis (IN) Chapter of The Links, Incorporated, Regina Jones & Rebecca Jones, Judith B. Murphy, Joyce Pruitt, Greg & Corie Shaner, and Mark & Sally Zelonis.
​​​​​​​