Winterlights, Illuminated. The stories behind this year's newest additions
Gritty R&B band Huckleberry Funk and multi-disciplinary visual artist Anila Agha are rising stars who are shining bright at Winterlights this year. These local talents are illuminating the best of our Indianapolis community. You'll find both contemporary art additions in the second half of the experience, near the Whimsical Terrace, just steps away from the recently renovated Playhouse, and you can't miss either piece.
I spoke with Agha over Zoom about her 18-foot sculpture, The Greys In Between, and about how harnessing our differences can be a powerful force for change. She is currently wrapping up a semester at Augusta University in Augusta, Georgia, where she is a guest professor and is busy preparing for five forthcoming solo exhibitions that span from California to New York City.
The Greys In Between is fragile yet powerful. Viewers can admire the surface beauty of the sculpture, how it is illuminated from the inside and casts intricate shadows throughout the Four Seasons Garden, but she hopes viewers are captivated by the beauty and are inspired to look further. What does the light mean? The shadow? How are the two pieces interacting with each other? One is held up by the other, but both are contributing to the end result.
Agha, originally from Lahore, Pakistan, moved to the United States in October 2000 to pursue her Master of Fine Arts at University of North Texas in Denton, Texas. She later moved to Indianapolis in 2008 to take a position of assistant professor of drawing at Herron School of Art and Design at IUPUI.
As a young Pakistani woman in Texas, Agha experienced racial profiling that she hadn't in Pakistan. She was used to gender profiling, but post September 11, 2001, she was experiencing a new reality. "I was made aware of how small my voice was," she said, and she made it her mission as an artist and educator to use her voice as a force for change.
The Greys In Between is on view at Newfields now through January 2, 2022. For more information about Anila Agha's upcoming exhibitions, visit her website: http://www.anilaagha.com/.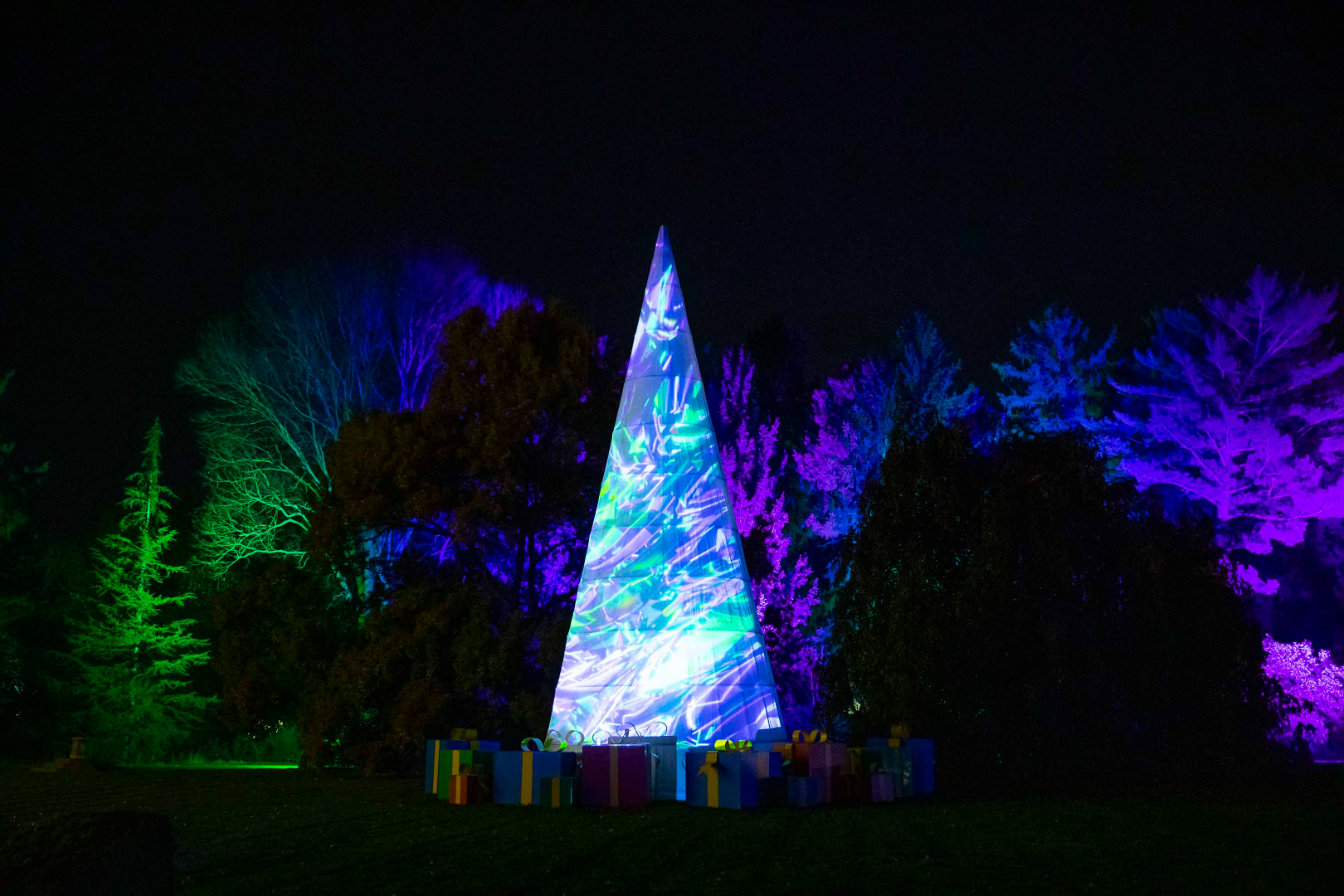 Fans of Huckleberry Funk's soulful cover of Donny Hathaway's 1970s tune "This Christmas" will be delighted to see a new feature dedicated to the song this year. The lyrics How much fun it's gonna be when we're together... ring out across the recreation lawn where the three-dimensional projection-mapped light show takes center stage. The show was designed by Lightborne in Cincinnati, Ohio exclusively for Huckleberry Funk's rendition, to add some funky, non-traditional holiday cheer to the previously quiet space.
Malina Jeffers, Board of Governor and co-founder of GANGGANG, a cultural development firm in Indianapolis, introduced Newfields to the young group last year while we were experimenting with adding pop music to the show. Huckleberry Funk was a perfect fit, as was their song choice, "This Christmas," which has a unique ability to both "put you in your feelings," band member Dexter Clardy said, "and make you want to dance."
The group is made up of Clardy on lead vocals, Alex Dura on keys and saxophone, Bobby Donnelly on guitar, Matt McConanay on bass and electric bass and Byron Boler on drums. All graduates of local universities, they bring diverse musical backgrounds and preferences together, resulting in a sound they call gritty R&B, with funk being more of an attitude, than a genre.
The five-man-band has seen a steady rise to success since they got their start in Bloomington five years ago, and Newfields is lucky to have them caroling through the night (or at least their recording) all 45 nights of Winterlights. Visit their website for a list of upcoming shows, and click here to stream "This Christmas" on repeat all season long!
Installation view of The Greys In Between at Newfields, 2021. On loan from the artist. © Anila Quayyum Agha.
Winterlights is presented by Bank of America. Lead support is generously provided by The Hagerman Group, Klipsch, Marian Inc., RJE Business Interiors, Sun King Brewing, and Sunbelt Rentals. Additional support is provided by Barnes & Thornburg LLP, Engledow Group, Epson America, IGT Indiana, Mays Chemical Company, and RCR Technology.