At Newfields, one of our core values is stewardship. We aim to leave the world better than we found it. What are we doing around campus that might spark an idea for your own sustainability goals?
Don't spring a leak this spring
As the pipes thaw with spring's arrival, an hour or two of prevention is worth thousands of gallons of saved water. After a long winter "hibernation," stuck valves, broken heads, and cracked pipes (through rain and condensation) can create huge amounts of waste. If a typical two-inch sprinkler pipe breaks, then a 24-foot above-ground round pool, 5 foot deep, would fill in about 20 minutes.
You can run through a simple inspection checklist to quickly identify parts that may have broken during the freeze. Here at Newfields it takes us a bit longer, and we prepare weeks in advance. Rightly so, as our irrigation system covers around 35 acres with 200 individual zones to coordinate through electric valves. Most of our watering happens during the evening to best manage water supply, and to promote optimal plant health. So it's even more important that we don't unknowingly waste our precious water resources.
We're also harnessing the power of data. Through our fellowship program, we're collecting additional data from our flow meters to monitor and improve our water use efficiency in real-time. This tech is one to watch, with the price of these systems coming down and no longer just in reach for large organizations. Knowledge is power, and understanding your exact water usage with a smart sprinkler system can help you adjust to shifting weather as well as budget for the future.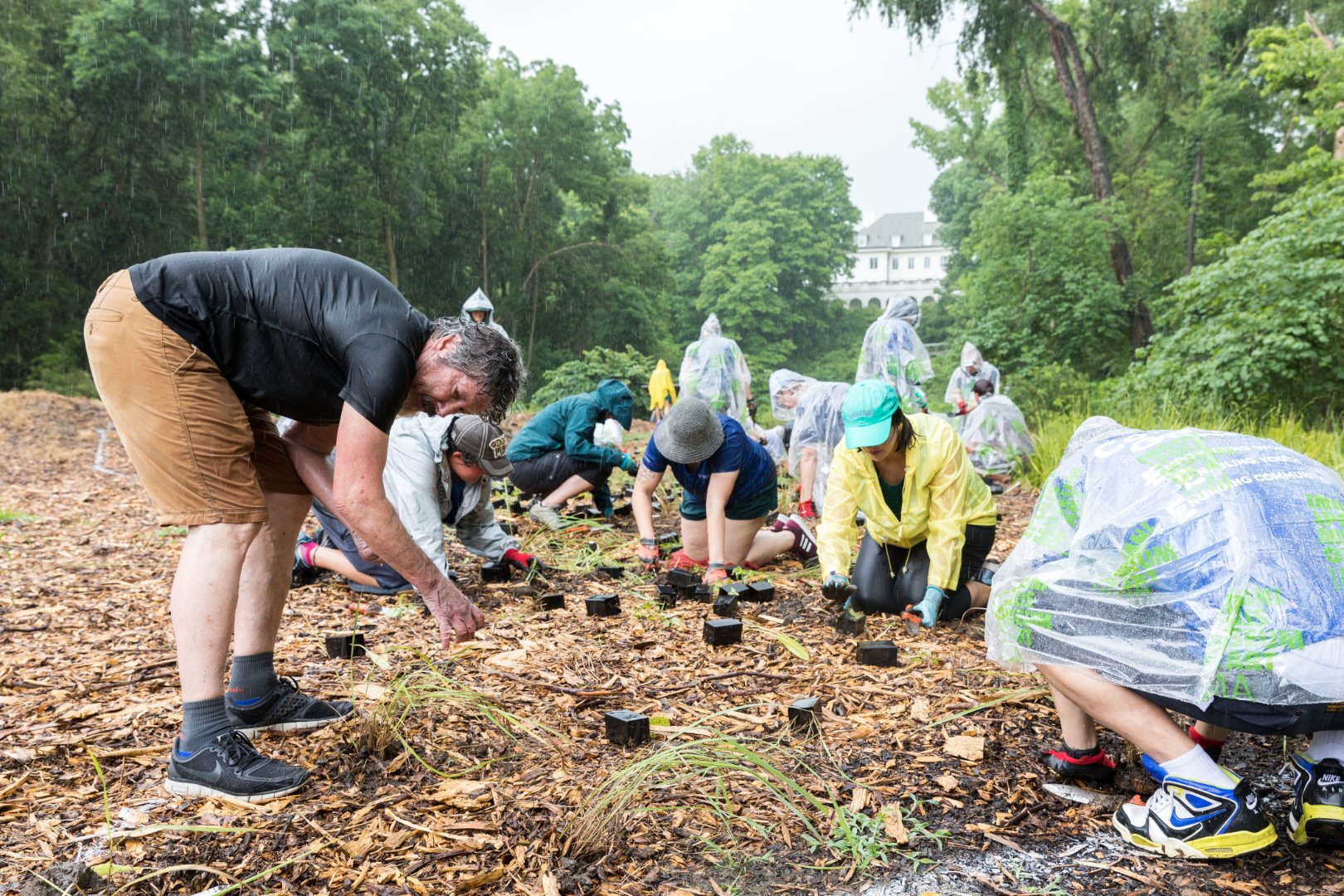 Image Caption: A group of volunteers planting native plants in the Wild Birds Unlimited Native Pollinator Meadow.
2. Plan your plantings
Whether you tend to a small patio patch or a backyard of rolling hills, be a conscientious planter and plan ahead. Where to begin? Consider growing less turf grass and replacing it with plants that benefit our wildlife (tip: perennials, shrubs, and trees all take less maintenance than grass).
Or have you considered native Indiana flora for your own home? You can take field notes as you stroll the Wild Birds Unlimited Native Pollinator Meadow in The Virginia B. Fairbanks Art and Nature Park this year. A good rule of (green) thumb, if we've planted it, we've researched it. The Plantsnap app can help you instantly identify over 600,000 types of plants, or just ask a helpful member of our team.
We're dedicated to diverse wildlife habitats through increasing pollinator-friendly and Indiana native species plantings. We're also installing a variety of food and cover resources that are critical for wildlife. And we've worked alongside dedicated volunteers to remove over 60 acres of honeysuckle, wintercreeper, and other invasive species. All these efforts contribute to beginning the process of restoring balance to the natural systems and improving the White River ecosystem health for everyone.
Image captions: Volunteers wrapping and sorting LED holiday light strands after Winterlights.
3. Power down responsibly
Around our campus, after the glitter and glamour of the Winterlights season, dedicated staff separate out broken or damaged bulbs. This year we sent about 400 pounds of lights to be responsibly recycled at Technology Recyclers, an Indiana Veteran Owned Small Business operating from Indianapolis. Join the effort to reuse and recycle raw materials from e-waste to help conserve natural resources and avoid pollution.
If you're still reading and haven't yet had your "lightbulb moment," here's an easy sustainability win. You can recycle old devices and unwanted electronics at your local recycling center. Did you know that a simple switch to LED (light emitting diode) bulbs at home can seriously impact savings? Residential LEDs—especially ENERGY STAR rated products—use at least 75% less energy, and last up to 25 times longer, than incandescent lighting.
Since LED technology reached standards of color rendering required for museum use, we saw a golden opportunity. At Newfields we've embarked on a campus-wide conversion of all existing incandescent and fluorescent lamps to LED lamps. In the museum galleries this safeguards the collection, eliminating ultraviolet emissions from lamps and improving color perception and clarity. We're getting a return on investment too by reducing electricity utilities costs, the number of lamps purchased per year, and also labor costs due to less frequent replacement of the LED lamps.
While we are proud of the progress we have made, we are committed to continuing to reduce our carbon footprint. We can learn from one another as we continue on this journey to becoming excellent stewards.
Exhibition Credit:
Winterlights is presented by Bank of America. Lead support is generously provided by Hagerman Group, Marian Inc., RJE Business Interiors, Sun King Brewing, and Sunbelt Rentals. Additional support is provided by Barnes & Thornburg, Color Story Studio, Engledow Group, Faegre Drinker Biddle & Reath, Mays Chemical Company, and RCR Technology.