There are no glass ceilings in the brand-new Clowes Pavilion, just an 11,500 pound, 47 by 31-foot LED ceiling at the center of the medieval cloister-inspired courtyard. The state-of-the-art ceiling is a stunning display of technology in the heart of a gallery devoted to centuries-old paintings. 522 ultra-high-definition LED panels put on a show only Mother Nature herself could rival, playing overhead in 8,000-pixel screen-resolution.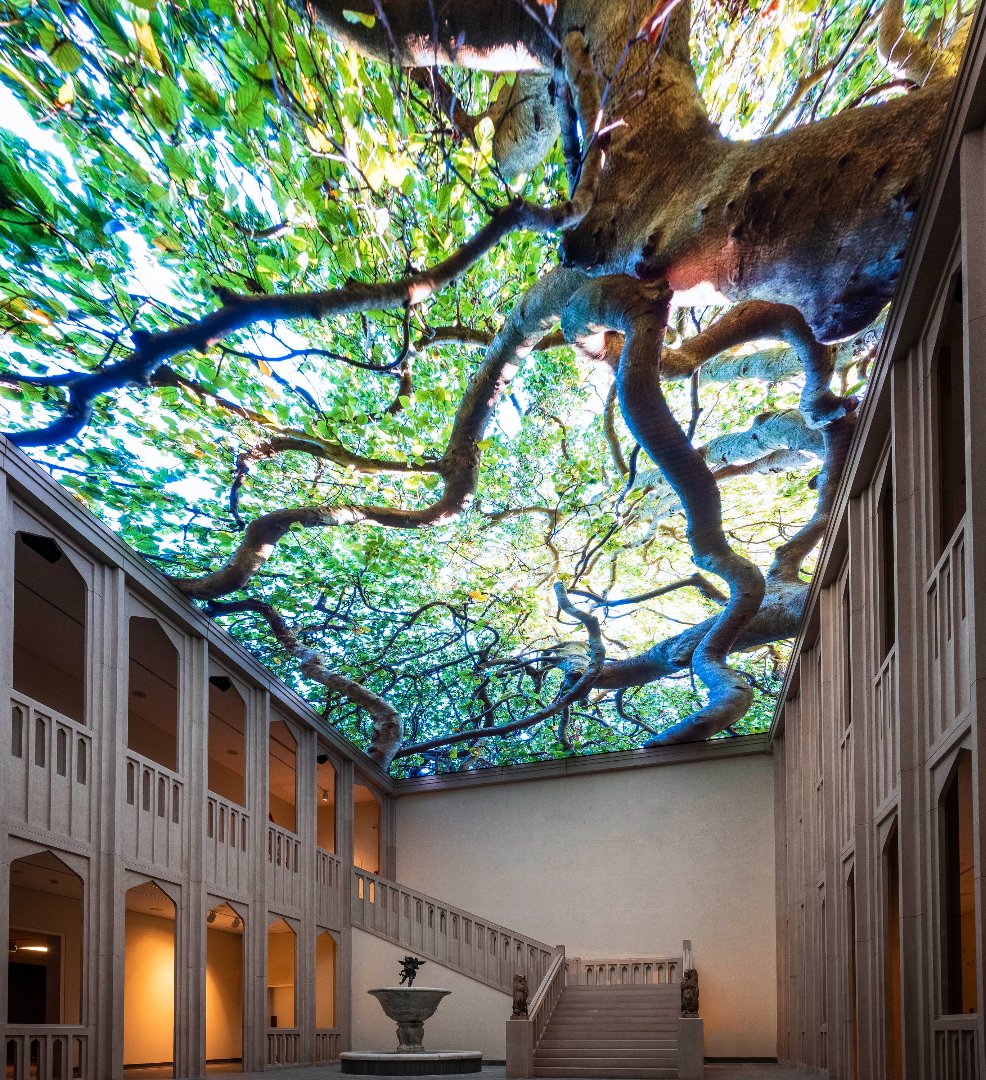 The Clowes Pavilion was designed with the modern museum guest in mind and the result is "truly magical, it doesn't look or feel like any other gallery space. When you walk in you feel like you've discovered something special," said Tascha Horowitz, Director of Interpretation, Media, and Publishing at Newfields, who oversaw the ceiling project, along with other interactive elements in the Clowes Pavilion. "I hope the ceiling encourages our guests to be intrigued and curious, and to take that feeling with them as they explore the surrounding galleries."
"Research shows that guest satisfaction rises significantly when museums update architecture, change the way art is presented, and incorporate truly innovative technology throughout gallery spaces," shared Katie Haigh, Chief Operating Officer at Newfields, and who oversaw the renovation. "From the beginning, we asked ourselves, beyond great art, what drives guests to a gallery, and what makes them stay?"
Get ready to stay awhile, because guests are sure to be dazzled by a handful of scenes, shot specifically for the Clowes Pavilion by Kevin Winkler and his team from Blockhouse Studios. True to the original intent of the Clowes Courtyard, art and nature collide with scenes of a towering weeping beech tree gently swaying in the wind, a starry sky on a cloudless night, and even an ultra-high-resolution image of the moon, provided by NASA. Other scenes include abstract interpretations of brushstrokes from paintings in the Clowes Collection. Different from THE LUME Indianapolis or "Mischief Manor", part of Harvest Nights at Newfields, the Clowes ceiling is more passive, a place for quiet contemplation inside the galleries. The content rotates every 20 minutes on a 60-minute loop and is accompanied by a soundtrack of pleasant background music.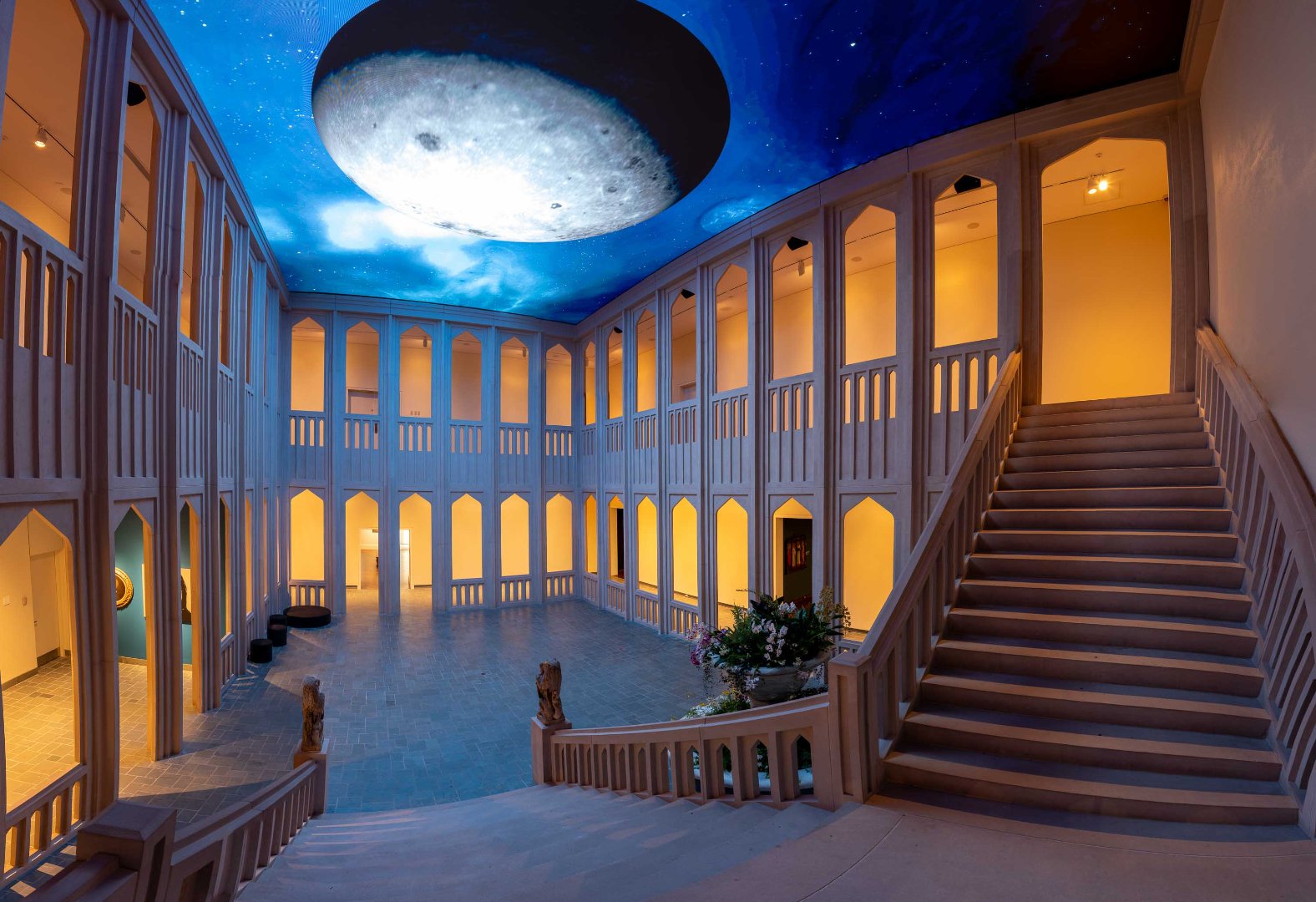 The Newfields team, led by Haigh, included Mike Griffey, Director of Collection Support and Construction Services and Horowitz, who worked hand-in-hand with The Clowes Fund and the Allen Whitehill Clowes Charitable Foundation for many years to refine the design that could bring the content to life. "It was a process of trial and error. We went through many iterations. At one point we were going to cover the ceiling with a membrane that would be projected from behind," recalled Haigh. "It wasn't until we found Blockhouse Studios that we understood what was actually technologically possible."
Winkler proposed LED screens over projection for this space. "I just knew it had to be LED," he said. But what you are seeing in the Clowes Pavilion isn't your everyday LED billboard or jumbotron. "To get ahead of this technology, we doubled the pixel density people are used to seeing, so now, your eyes can't distinguish little dots. It looks real—really sharp, extra clear, vivid images that aren't going to look dated in a few years."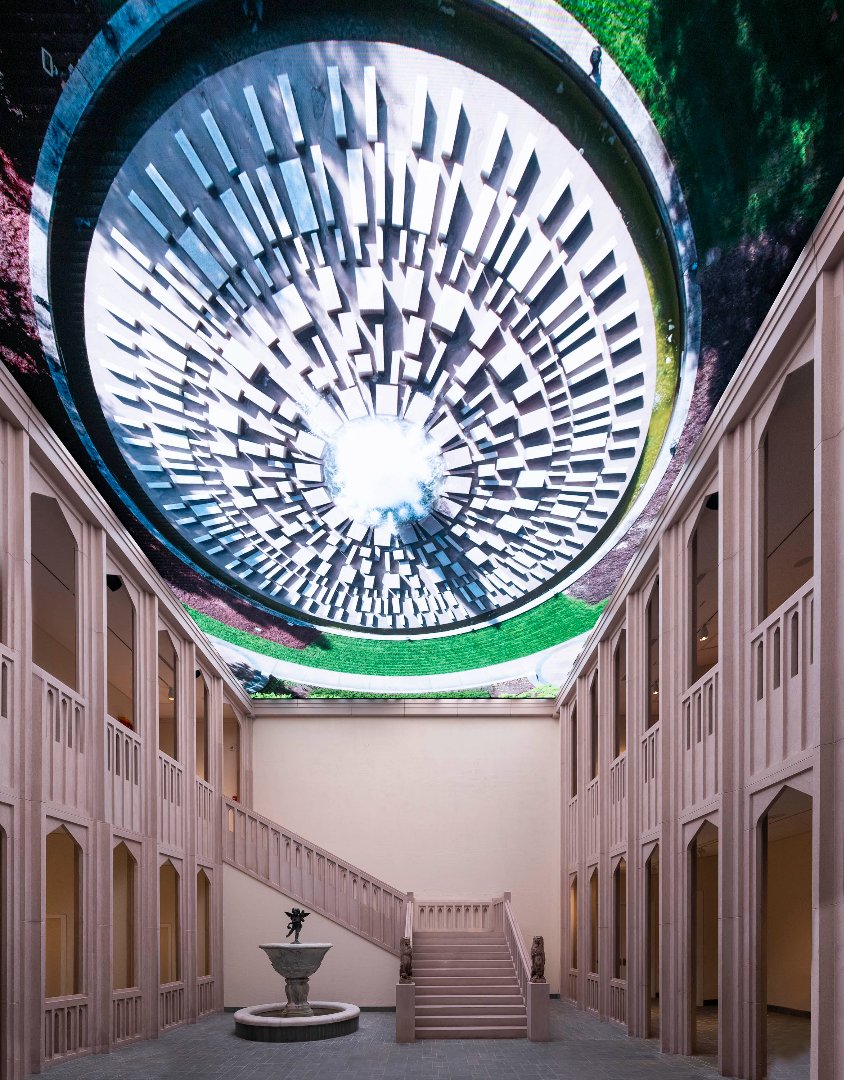 The ceiling was designed, sourced, and installed by a team of talented local vendors: Blockhouse Studios, Tyler Truss, Neoti and Dodd Technologies, guided by Newfields' team of interpretation specialists, designers, conservators, curators and facilities teams.
The show-stopping feature at the heart of the Clowes Pavilion pushes the limits of technology, connecting guests to the centuries-old art in the Clowes Collection. Suspended two stories high in the heart of the Clowes Courtyard, the ceiling is sure to capture the imaginations of guests for decades to come.
EXHIBITION CREDITS:
The Clowes Pavilion Reimagined is made possible with support from Allen Whitehill Clowes Charitable Foundation and The Clowes Fund.
IMAGE CREDITS:
Installation view of The Clowes Pavilion Reimagined, opened March 25, 2022.