This February, Newfields presented an exhibition featuring five photographs by Jeffrey Henson Scales in celebration of Black History Month—emphasizing the timely national theme Black Resistance. Scales, a life-long documentary photographer, is now a photo editor at The New York Times and adjunct professor at NYU Tisch School of the Arts, where he teaches photojournalism.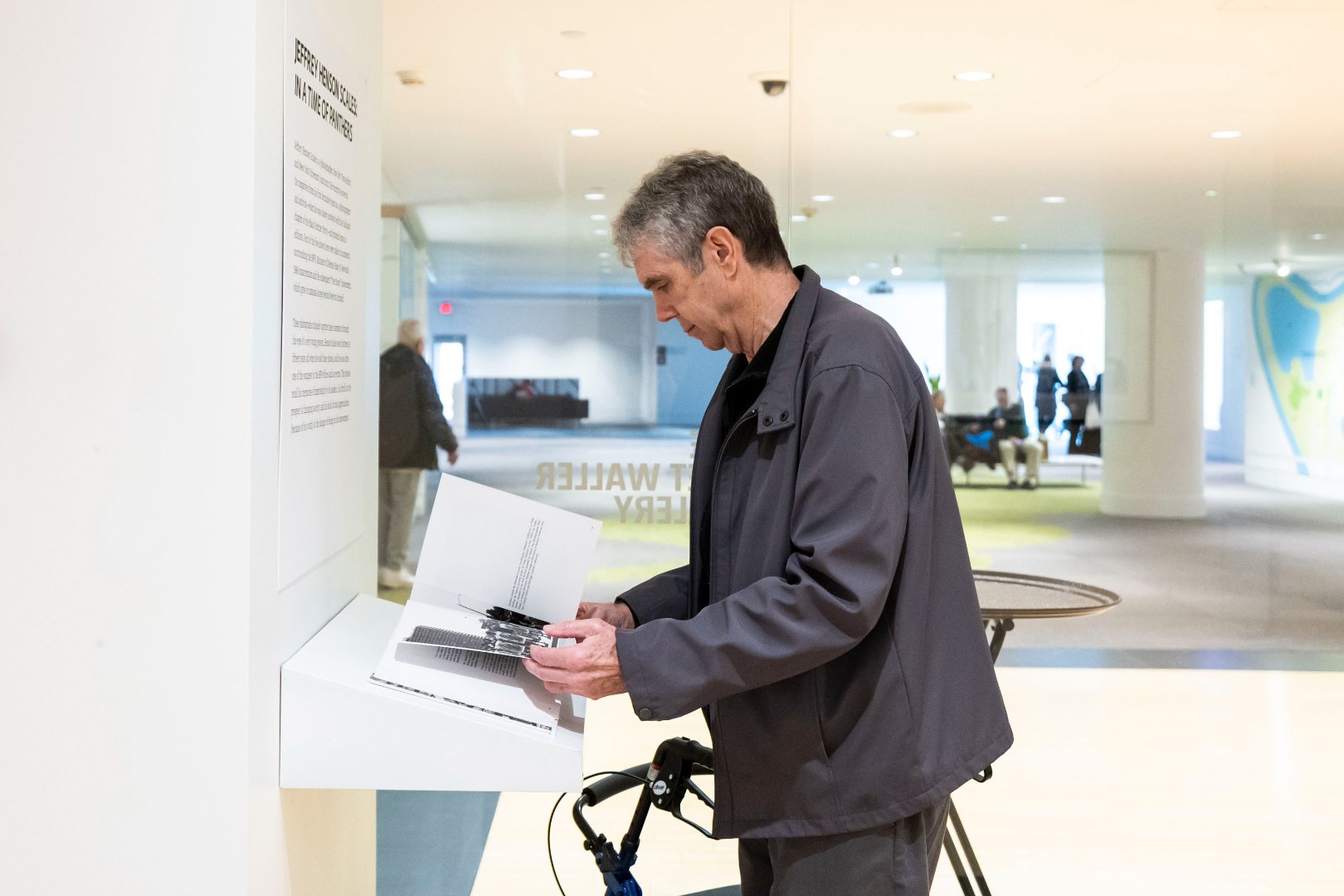 In 2018 after his mother passed, his brother and stepfather found negatives in her attic that Scales took as a young activist during the height of Black Panther Party activity in Northern California. After being tucked away for half a century, in 2021 Scales printed a series from the negatives in what could be considered a collaboration with his younger self.
"As a young activist, I learned how important it is to have a concrete mission to help improve the community you're speaking for. It's not just about slogans and protests. It's also about improving communities and serving underserved people in those communities, and how important that is. I've just sort of been recently thinking about what I learned and where it all fits 50 years later." - Jeffrey Henson Scales in a September 2021 interview with The New York Times
The five images were all captured between 1967 and 1970, when Scales was just 13-15 years old. They include intimate portraits of Bobby Seale, Chairman of the Black Panther Party and Huey P. Newton, the Black Panther Party's Minister of Defense, both mentors of Scales. The photographs offer a rare perspective, that of a young man energized by the power of protest and somewhat naïve to the danger he was often in.
Four of the five images capture moments surrounding the incarceration of Newton and the following "Free Huey!" movement. The fifth image shows "Black Power" scratched into a wall in Chicago, taken with one of Scales's first cameras during what became known as the long, hot summer of 1967.
"A new urgency to these images and the original Civil Rights Movement takes root in context of today's ongoing struggle for racial justice," Scales said about the trove of historical material. "These images serve as a time capsule of sorts, not only of my adolescence and political awakening, but also for the country whose ongoing struggle with racial inequality, police brutality and resistance is as urgent and timely as ever." - Jeffrey Henson Scales in In a Time of Panthers: Early Photographs by Jeffrey Henson Scales
Twenty-four photographs were exhibited for the first time in 2021 at Claire Oliver Gallery in Harlem, NY, from which the Indianapolis Museum of Art acquired these five. They then became the perfect objects to draw on for a short-term exhibition in celebration of the power of Black Resistance during Black History Month.
The exhibition featured a response station where guests shared how the photographs made them feel. A few guests reflected,
"It reminds me of freedom. It reminds me that I am here today because of my ancestors. I live to take advantage of every opportunity they fought for."

"Amazing portraits of people who worked for equity and community. This gallery and the sounds capture a unifying call to the need for justice and equity in our communities."

"I feel a sense of power, rebellion, and freedom. There is a power that comes with viewing these. I love that you've shown them."
If you missed the exhibition, not to worry, you can look forward to seeing these images again in a photography exhibition in 2025 at Newfields. You can also purchase a copy of Scales's book, In a Time of Panthers: Early Photographs by Jeffrey Henson Scales in The Museum and Garden Shop.
Active music for the activist spirit
You can also check out The Black Panthers Mixtape curated by PBS Independent Lens, which joins "the politically charged soul music of the 60s and 70s with post-Panther era R&B and hip-hop that preserved the revolutionary spirit in song. This is active music for the activist spirit: the soundtrack of a revolution." Find the playlist on Spotify Independent Lens PBS. Some songs contain explicit language.
Image Credits:
Installation views of Jeffery Henson Scales: In a Time of Panthers, Waller Gallery, February 1–28, 2023. Artworks © 2023 Jeffrey Henson Scales / Artists Rights Society (ARS), NY.