More Than a Moment: How We. The Culture has changed the Indianapolis Museum of Art's Curatorial Approach
In some of the talks we gave leading up to the opening of We. The Culture: Works by The Eighteen Art Collective, we (Tascha and Shelley) joked that as extroverts, the raw, visceral joy of being together again with large groups of people—communing over our shared love of art after having been trapped inside our homes for nearly two years—was almost too much to take. We were absolutely beaming.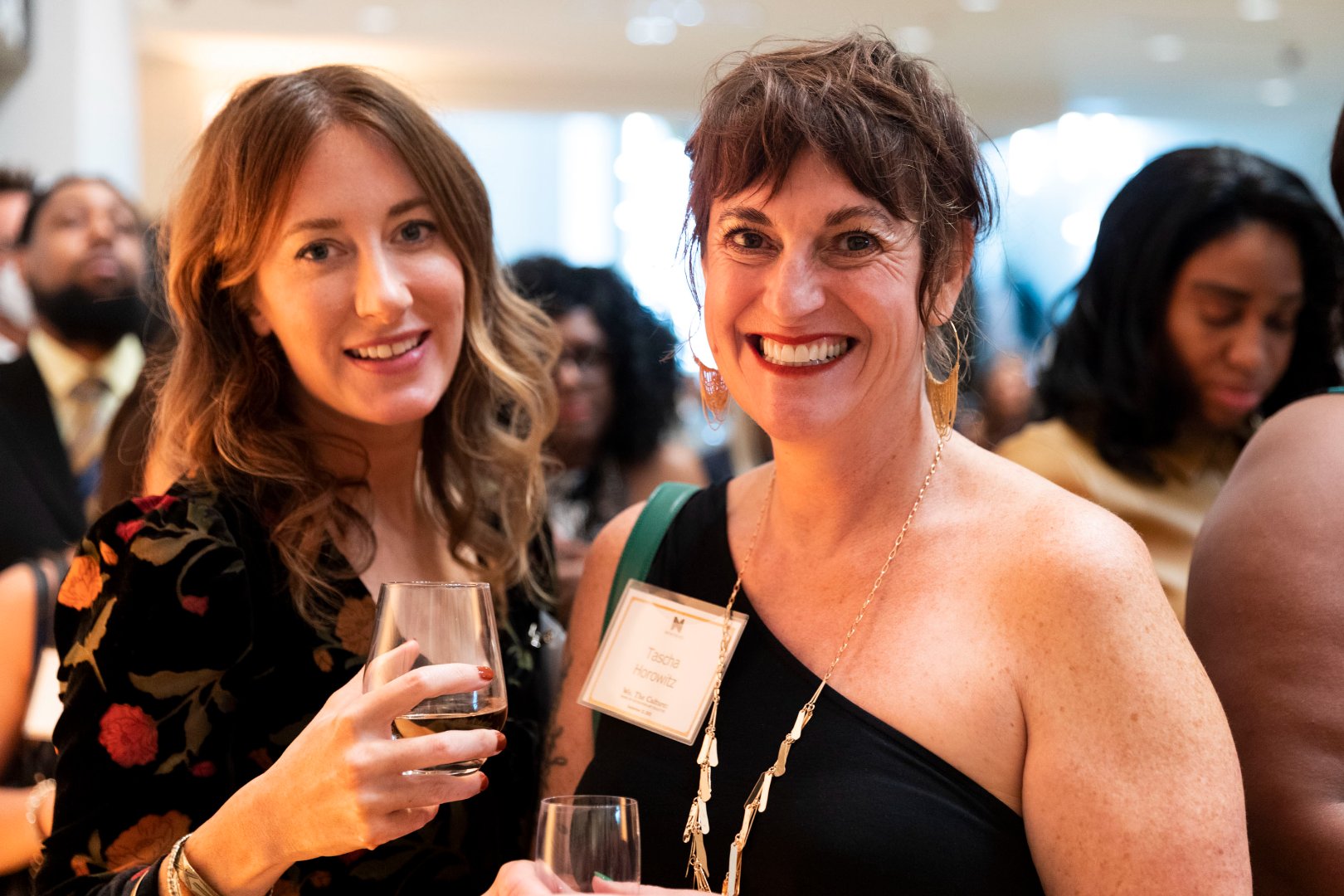 Looking back now, it is no wonder we enjoyed the process of developing We. The Culture so much. As opposed to other exhibitions we'd worked on in the past, which might have had smaller project teams and more solitary work, everything about this show was people-centric. Instead of focusing on a single artist—our most common approach to contemporary art exhibitions—we collaborated with eighteen exceptional local artists. This brought a wonderful diversity of perspectives to the show, fostered greater personal and community connections, and will allow us to continue collaborating with the artists on programming throughout the exhibition's run. We also worked with two amazing guest curators, as well as dozens of Newfields staff members to see this project to its fruition. We took over the museum for a day-long video shoot, conducted studio visits, and filmed interviews with each of the individual artists who make up The Eighteen Art Collective. We determined very early on that We. The Culture needed to be as much about the artists as individuals as it was about their artwork, and for us the show became just as much about listening and relationship building as it was about artful narratives. We felt very honored that the artists invited us into their lives and trusted us to tell their stories.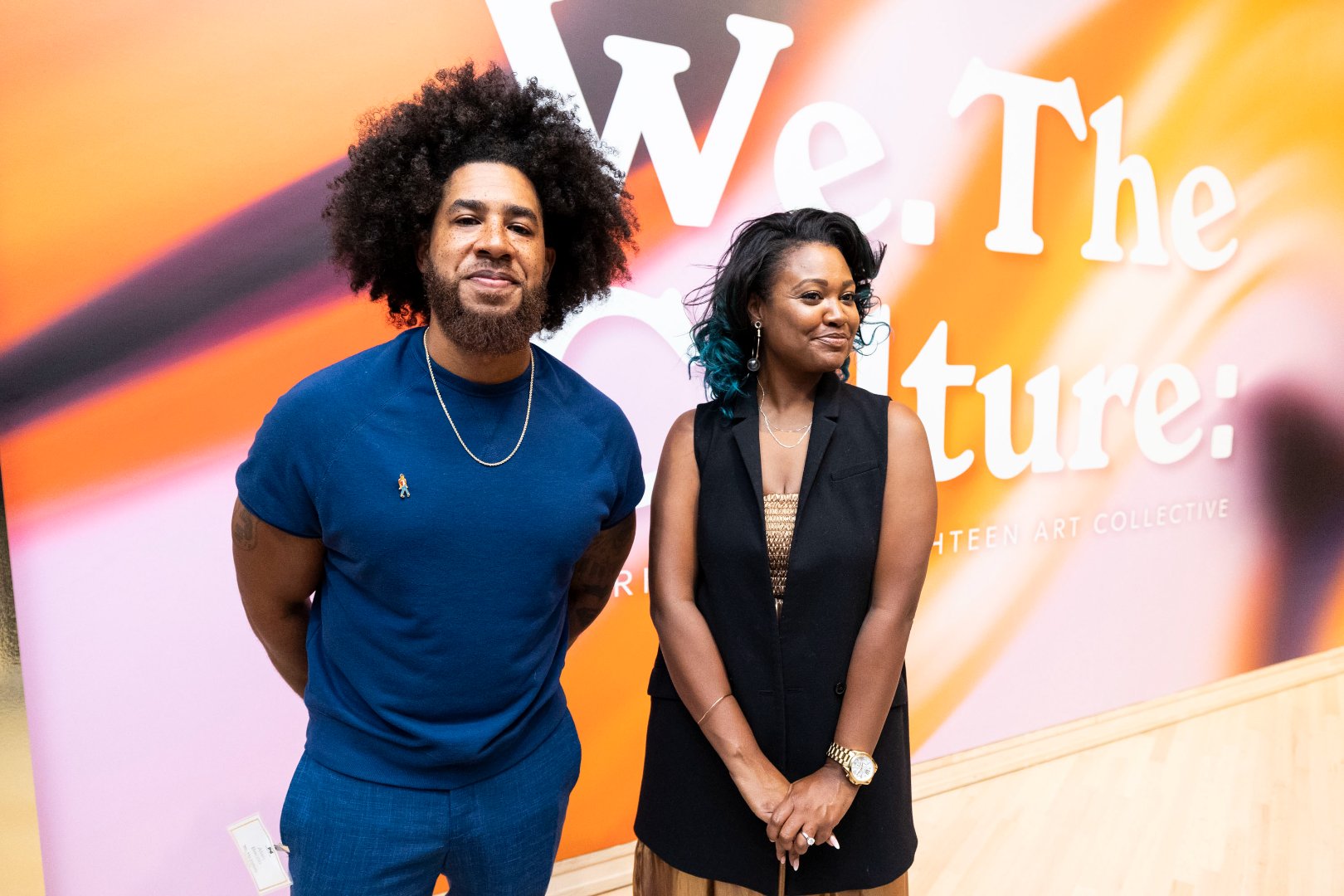 At the nexus of all of this were Mali Jeffers and Alan Bacon of GANGGANG, our two co-curators whose skill for cultivating trust and thoughtful conversation was a privilege to experience. Mali recalls that it "happened in layers," because "GANGGANG developed Newfields' relationship with the artists. We were like brokers for the relationship between The Eighteen and Newfields, and it feels meaningful that the museum has a personal relationship with them. It feels like a relationship blooming or being repaired between old visitors, new visitors, and the community at large." Alan adds, "Without the intentional relationship-building I don't think this exhibition would have happened. The strength of the relationship between GANGGANG, The Eighteen, and Newfields was paramount in allowing us to execute this show."
For us and our teams at the museum, this meant a lot of active and compassionate listening. Our primary concern was pausing and letting the artists' and GANGGANG's voices be heard. We tried to receive and respond to what they actually needed and adapted our processes as much as we could to their needs. Coming together and being willing to pause and compromise until we could move forward together with a shared vision and enthusiasm was at the core of this project's success. This wasn't always easy—the Indianapolis Museum of Art is a large institution (the eighth largest encyclopedic museum in the country, to be precise), and as part of the overarching umbrella organization of Newfields, we require a lot of Gantt charts, rules and regulations, protracted timelines, research, and other structural systems to successfully actualize our projects.
We didn't want our very structured process to stifle the magic of what GANGGANG brought to the table. For Mali, that was making We. The Culture "feel very of the moment. The show is socially relevant on a national scale and hyper-local scale. That's what makes things feel real and authentic and that's where you have the opportunity for connection between people. We were pushing for authenticity and individuality." In order to achieve this, we needed to be flexible with our timelines and allow for changes in content, approach, and execution throughout the development process. None of this would have been possible without the time we spent with GANGGANG to nurture trust. It was a great exercise in adaptability for us.
GANGGANG also helped us open communication channels to achieve more clarity in our dialogue with the artists. Mali notes, "There were times when we heard from the artists, 'I don't know exactly what the conservation team means by this,' or 'I don't know what it means for art to be drop-off ready.' We were able to respond to that and say, 'Come [to Newfields] and we'll introduce you to the people who will be handling your work and you can ask questions directly of them.' I think that was a way of saying, 'We noticed something and we're responding right away.'"
For that reason, Newfields held an evening workshop in Garden Terrace with The Eighteen and our curatorial, conservation, registration, and art handling staff to answer any questions they may have about packing, shipping, framing, or caring for their artworks. This was a need we hadn't anticipated, but in retrospect it was obvious. Positioning ourselves to be better listeners and to respond to what the artists need from us—as opposed to assuming we already knew—allows us to be a better resource for them now and in the future. We've discussed developing this concept into a standing workshop program to serve our local arts community.
Other parts of the process came much more naturally for us. One of our strengths as an institution has been our collaborative approach to exhibition development, particularly between our curatorial, interpretation, design, and programming departments. Early on we brought together the artists, GANGGANG, and representatives from many different Newfields departments to brainstorm programming and interactive concepts for the show. This resulted in dozens of ideas that needed whittling down, and Mali recalls, "We had a moment of 'What do we prioritize?' We had so many voices—there were eighteen artists and four curators—so it really was a matter of master collaboration and group prioritization versus a pushing or a pulling."
Incorporating a musical element into the exhibition was something that we all knew we wanted, and like the rest of the project, people and community were at the heart of our approach. We installed speakers in key positions throughout the gallery, and Nigel Long from GANGGANG curated a soundtrack featuring songs by seven Indianapolis-based musicians, including Wavy Blayne from The Eighteen. Even before you reach the threshold of the exhibition, you are greeted by music that sets the tone for the experience. We also focused on how we could create sustained engagement over We: The Culture's year-long run and worked closely with our programming team to put together a calendar of events that provides opportunities for our guests to engage with the artists themselves as well as the topics raised in the exhibition.
For the two of us, the act of collaboration and coming together through intentional dialogue, listening, and compromise is the most rewarding part of the job. It involves working with people (which we love!), finding points of connection, and better understanding what motivates us and our colleagues. We hope the joy we felt throughout the development of We. The Culture translates for everyone who visits the show. As we love to say–this project reminds us of why we do what we do.
Exhibition Credit:
We. The Culture: Works by The Eighteen Art Collective is presented by Aaron Wealth Advisors, Gary & Hannah Hirschberg. Lead support is provided by Rachel M. Simon & the Herbert Simon Family Foundation and June McCormack. Associate support is provided by IceMiller and its Racial Equity Solutions Team. Additional support is provided by Judy Donner, Nathan & Deborah Oatts, and Emily A. West.
Image Credits:
Members of The Eighteen Art Collective and the co-curators from GANGGANG and Newfields stand with Dr. Colette Pierce Burnette, President and Chief Executive Officer of Newfields, in front of the title wall to the exhibition We. The Culture: Works by The Eighteen Art Collective.
Shelley Selim and Tascha Horowitz, co-curators of We. The Culture: Works by The Eighteen Art Collective, at the exhibition opening celebration.
Alan Bacon and Malina Simone Jeffers, co-founders of GANGGANG and co-curators of We. The Culture: Works by The Eighteen Art Collective, stand in front of the title wall of the exhibition.
Installation view of We. The Culture: Works by The Eighteen Art Collective in the June M. McCormack Forefront Galleries, September 23, 2022–September 24, 2023.
Guests at the exhibition opening celebration for We. The Culture: Works by The Eighteen Art Collective in the June M. McCormack Forefront Galleries, September 23, 2022–September 24, 2023. Artworks © their respective creators.
​​​​​​​