A Letter from the President & CEO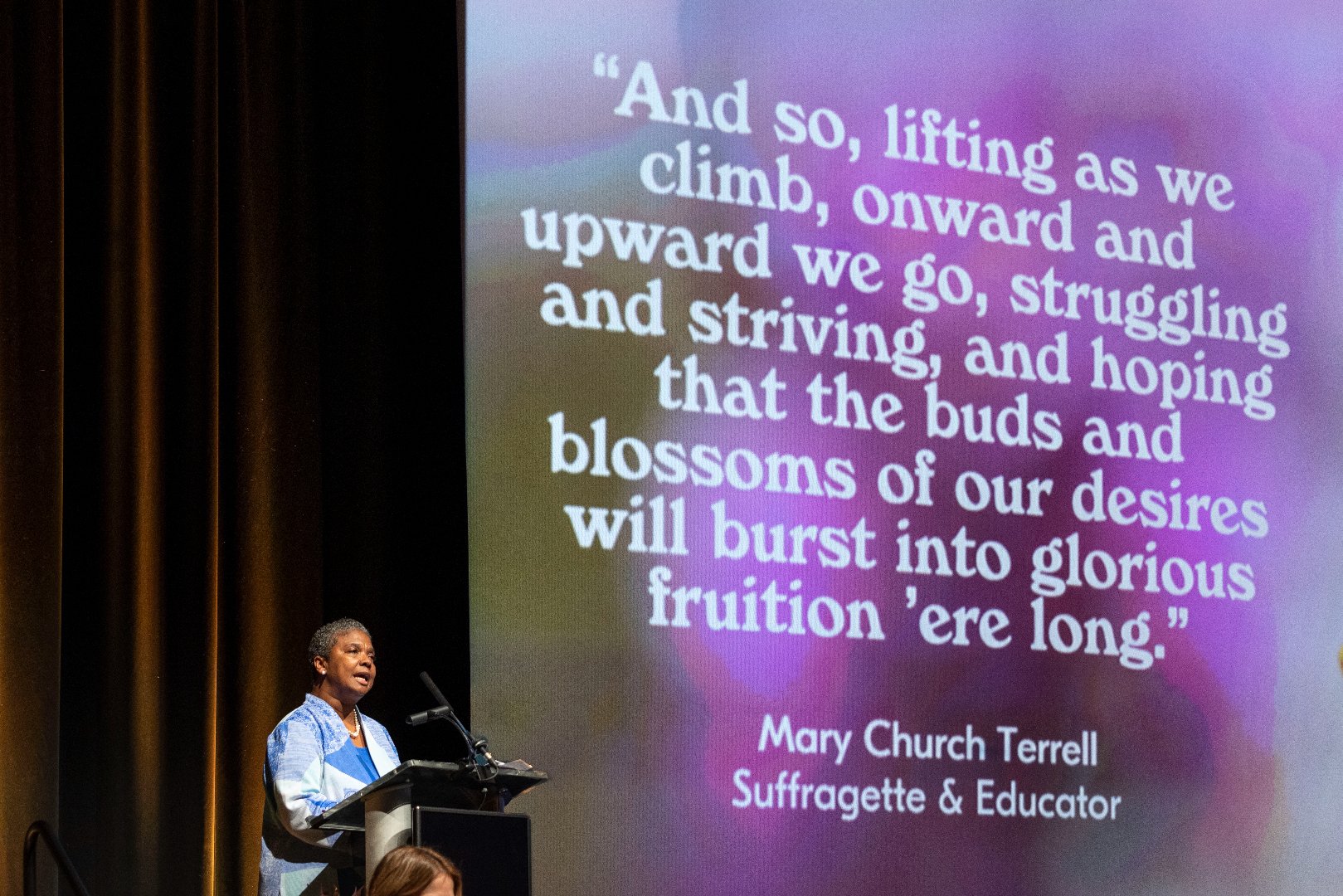 Dear Newfields Members & Friends,
The 140th Annual Members' Meeting on May 15th was the one-year anniversary of the beginning of the warm welcome I have received from the Indianapolis community as Newfields' President & CEO. From that evening forward, I have been on an exciting, humbling, fast-paced, and rewarding journey. Preparing my remarks for the evening and the kick-off for our 140th-year celebration gave me an opportunity to reflect on the year. I was in awe at all that had happened over the last year, how fast-paced it was, how much we had progressed, and how encouraged I am about our future. We have boundless opportunities to lead a beautiful place whose mission is to enrich lives through exceptional experiences with art and nature. We have intentionally infused our core values – STEWARDSHIP – INCLUSIVITY – SERVICE – EXCELLENCE into everything we do serving our communities.
So much has transpired since May of 2022. A few highlights from this tremendous year include:
The Clowes Fund officially gifted Rembrandt's Self-Portrait to the Indianapolis Museum of Art. We are beyond grateful for the longstanding support and partnership with the Clowes family.

Indianapolis Museum of Art received the 2023 Award for Excellence from the Association of Art Museum Curators in the category of Digital Publication for its recently released MASTERPIECES from the CLOWES COLLECTION: Paintings. This is the museum's first digital, web-based publication.

Newfields participated in the annual Philadelphia Flower Show, the nation's oldest and largest floral and landscaping showcase. We won three awards The Gold Medal for Landscape, The Pennsylvania Historical Society Trophy, and the Philadelphia Trophy.

Newfields welcomed more than 600,000 guests to our beautiful campus, more than ever before.

We have continued to expand our access programs, especially the Neighborhood Membership, which is up to over 1,000 members.

We hosted many exciting and important exhibitions including:
The first-ever all-staff art exhibition called Artists Among Us that featured art from all of the talented people at Newfields. The second season of Artists Among Us will open on June 23, 2023.

El Tendedero/ The Clothesline Indiana, a participatory artwork by artist and activist Mónica Mayer that transforms the clothesline, a symbol of traditional feminine roles, into a forum for conversation on violence against women.

We. The Culture: Works by The Eighteen Art Collective showcases the work of 18 Indianapolis-based artists who were brought together by a shared moment of activism—painting the Black Lives Matter Street Mural in 2020. The exhibition introduces the artists as individuals and creative professionals beyond their roles in the street mural and highlights the immense pool of artistic talent active in Indianapolis.
You can expect we will continue a tradition of excellence, guided by fiscal stability and sustainability, creating and maintaining deep and meaningful relationships with our communities and providing programs and exhibitions that continue to highlight Newfields on a national and international stage. On May 27, we opened the refreshed and reinterpreted American Art Galleries entitled Work in Progress: Conversations about American Art that feature the return of crowd favorites by Georgia O'Keeffe and John Wesley Hardrick in conversation with exciting contemporary works by Kara Walker and Joan Mitchell.
This year we will also debut the highly anticipated contemporary exhibition, The Message is Medium: Contemporary Art, in nearly 10,000 square feet of our Allen Whitehill Clowes Gallery, and THE LUME Indianapolis featuring Van Gogh will be back by popular demand for a limited time before transitioning to the surreal world of Salvador Dalí in early 2024.
You will also be receiving soon more information about events in celebration of our 140th year, such as debuting a brand-new exhibition titled Newfields at 140: What's Past is Prologue, opening in November 2023. Using items from our archives and nostalgic memories and stories from you, Newfields at 140 will explore and bring you on a journey through the Indianapolis Museum of Art's history and the evolution of this anchor institution.
I look forward to seeing you exploring the IMA Galleries, enjoying The Garden, or taking a walk in The Virginia B. Fairbanks Art & Nature Park. There is always something amazing and unique happening at Newfields. I hope to get to know even more of our members and friends this coming year–you are us, and we are you.
Gratefully,
Dr. Colette Pierce Burnette
President & CEO of Newfields
Image Credits:
Robert Indiana (American, 1928–2018), Lippincott, LLC, foundry (American), Numbers 1, 4 and 0, 1980–1983, painted aluminum, 96 ×96 × 48 in. (each). Indianapolis Museum of Art at Newfields, Gift of Melvin Simon and Associates, 1988.242, 1988.245, and 1988.241 © 2023 Morgan Art Foundation / Artists Rights Society (ARS), NY.
Kyng Rhodes, Newfound Fields, 2023. Commissioned by the Indianapolis Museum of Art at Newfields. © Kyng Rhodes.
Installation view of The Clowes Pavilion Reimagined, 2022. Artworks © their respective creators.

Rembrandt van Rijn (Dutch, 1606–1669), Self-Portrait, about 1629, oil on panel, 17-3/8 × 13-5/8 × 3/4 in. (panel). Indianapolis Museum of Art at Newfields, The Clowes Collection, 2023.4.