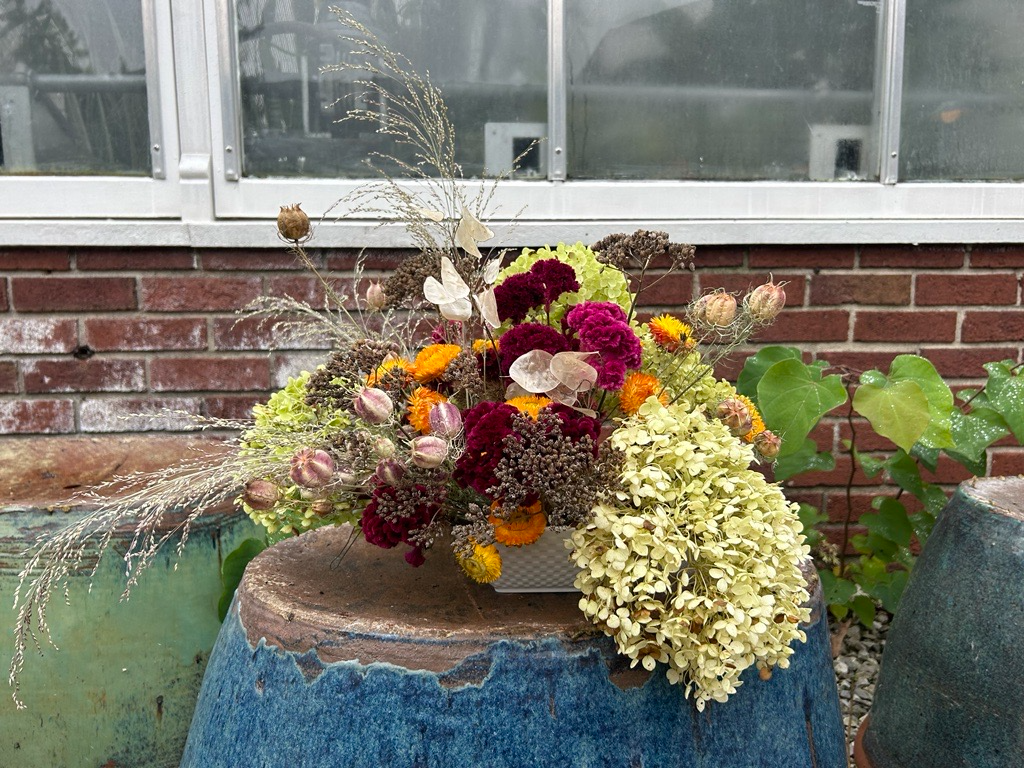 The Garden at Newfields is slowing down, but that doesn't mean the beauty of the blooms has passed. I made a beautiful, dried arrangement that will last throughout the holiday season using easy to find materials and blooms from The Garden. Try your hand at making one yourself or visit the Madeline F. Edler Greenhouse to get your fix.
All the material for this project was grown by Newfields horticulturists and harvested and dried by the Madeline F. Elder Greenhouse team. Drying flowers is quite simple. Throughout the growing season, and into fall, even this time of year, our horticulturists snip flowers and hang them upside down in a cool, dry space. Then, come the harvest season, we make them into beautiful arrangements that adorn Newfields events.
Tools:
If you don't have one of these, you can use a vessel with a narrow opening
Sharp, clean bypass pruners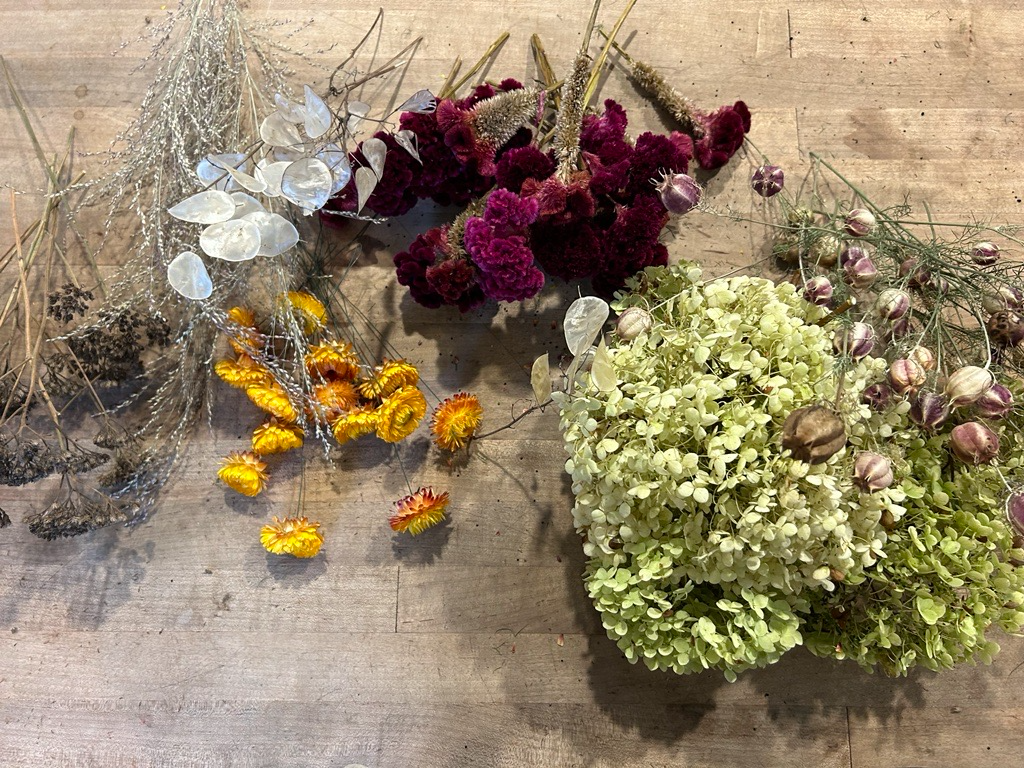 Floral Ingredients:
5 stems dried wild hydrangea (Hydrangea arborescens 'Annabelle')
Several stems dried cockscomb (Celosia argentea Cristata Group) of varying sizes

Several stems dried love-in-a-mist (Nigella damascena) seedpods

5 stems dried elder-leaved valerian (Valeriana officinalis ssp. sambucifolia)

12-15 wired strawflower (Xerochrysum bracteatum)
3 small stems moneywort (Lunaria annua) seedpods

3 stems switchgrass (Panicum virgatum) seedheads
Instructions:
| | |
| --- | --- |
| | 1. Put the hairpin frog into the bottom of the vessel. The pins and weighted bottom of the frog will hold stems in place and keep them from popping out. |
| | 2. Arrange the hydrangea stems in the frog, cutting to varying lengths, with at least one short stem placed down low and extending below the lip of the vessel. Aim for a somewhat asymmetrical look, as this is the most artful and pleasing to the eye. Also avoid having the tallest stem placed exactly in the center, instead arrange it slightly to the side. |
| | 3. Next add the cockscomb stems, with some cut very short and others longer. It's ok at this point to have gaps and open space. |
| | 4. Loosely tuck small bunches of the love-in-a-mist seedpods into the biggest of the open spaces. |
| | 5. Add the elder-leaved valerian stems here and there so that they float beyond the surfaces of the other flowers. |
| | 6. Fill remaining gaps with groups of two to three strawflowers, with some very low in the arrangement to obscure any remaining views of the flower frog. |
| | 7. Add the three moneywort stems for a touch of texture and shimmer. |
| | 8. Slip the switchgrass seedheads among the flowers such that they are slightly off to one side. |
This is a fantastic way to enjoy the beauty of flowers through the season. Keep an eye of for them on the second floor of Lilly House during Winterlights presented by Bank of America.