The National Bank of Indianapolis Summer Nights Film Series is back and in full swing with a lineup curated by me, Coye Lloyd, and my co-curator, Diana Gingerich at Newfields. Year after year, thousands gather on Friday and Saturday evenings in The Amphitheater at Newfields to watch films under the stars.
I am dedicated to film, and I can understand how the joy of going to the movie theater is lost, especially since the pandemic. As one of my closest friends put it: it's cold and will never be as comfortable as my couch and blanket. I can really relate to her and her preference to hold the power of the remote so that snack refills and bathroom breaks don't equal missing chunks of the movie. All true, but I still hold (and my best friend has exceptions to the declaration, which we'll get to in a bit) the experience of movie theater movie watching, to be a worthwhile and satisfying event–movies under the night sky at Summer Nights is on another level entirely.
Watching a film on the big screen lets us disappear into the story. Going to the movie theater makes us stop everything, make plans to leave our couch, and sit in a darkened room with strangers. We all have something in common–the appeal of this movie! In a way, it's the togetherness of the theater experience that excites me the most. I look forward to the ritual of buying tickets, getting a big bag of buttery popcorn, and a Cherry Coke. It's fun to go to the movies alone or with a group because they are two separate vibes that amount to the grand total of FUN.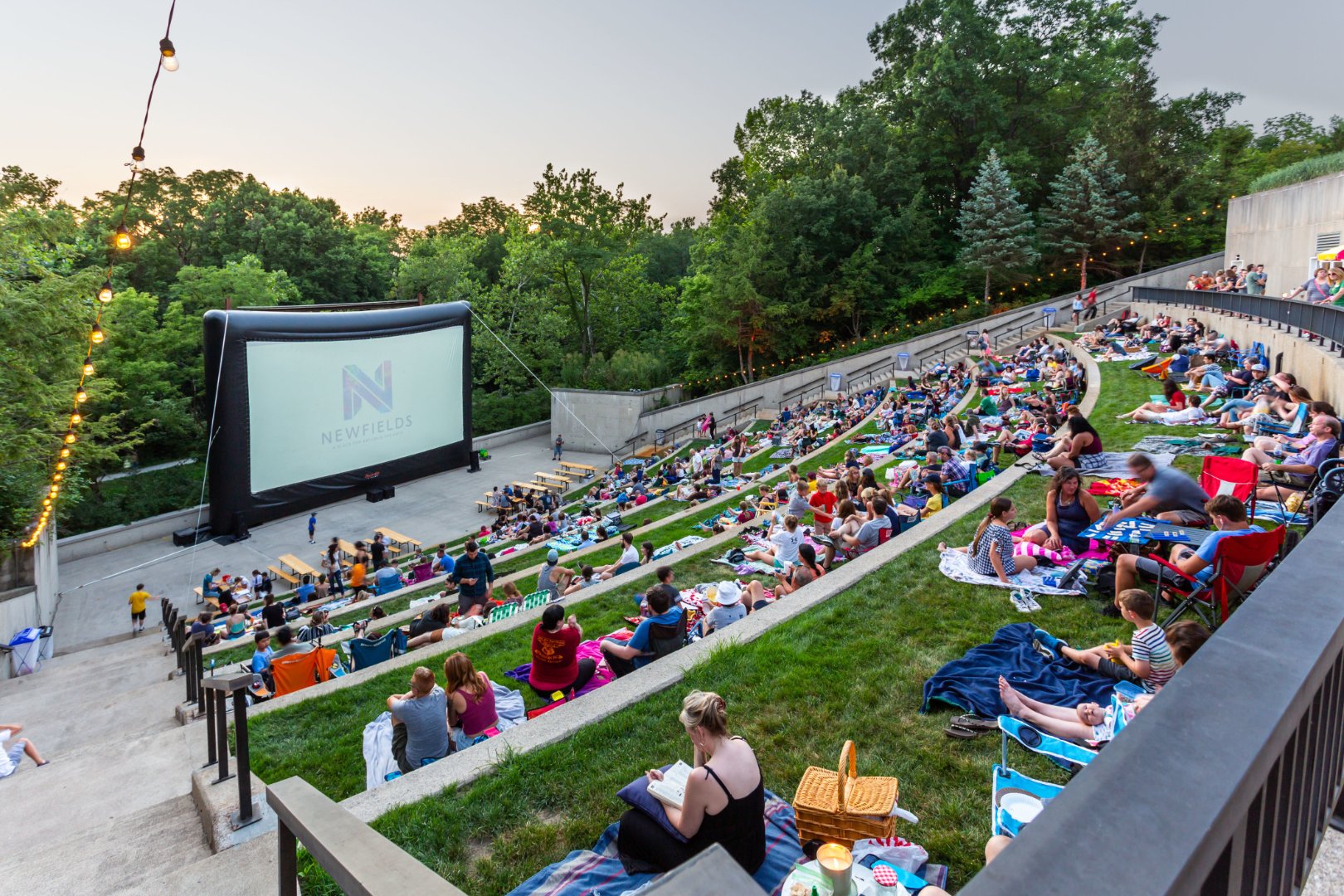 Back to my friend, the movie theater skeptic, her one exception this summer: the drive-in. The intentional act of leaving the house and pulling up to a drive-in (or in our case at Summer Nights, a luscious lawn) evokes the feeling of an escape! We are escaping the trappings of deadlines, early mornings, and meetings for just a few hours of something different, something more than what we do day-to-day. For that reason, and so many others, I believe that our list of films for this year's Summer Nights highlights our need to escape reality and stretch our experiences through the magic of storytelling in film.
Our season starter The Philadelphia Story offered a great example of how movie magic can transport audiences into new worlds. As the film delights in the grandeur of wealth and beautiful countryside, the characters themselves are lost in the topsy-turvy love triangle, turned love square, turned potentially doomed nuptials! Watching screen legends Jimmy Stewart, Cary Grant, and the illustrious and glamorous Katharine Hepburn elegantly plunder through quick and witty dialogue captivate and carry us away to another time, another place.
Inversely, Diana's favorite film of this year Brewster's Millions, looks at some very real problems of the day with airy and furious delight. The premise is simple: in order to earn an inheritance of $300 million, our leading man must spend $30 million in 30 days with the help of anyone he pleases, but not tell a soul. He has a way out: the wimp clause, which earns him $1 million but 'cause this is a movie, I know you know he went for the $300 million. What ensues is a romp inadvertently looking directly at class disparity, corrupt politicians, and the fact racism lives on, among other serious societal issues.
Being presented with an alternate universe that looks very similar to our own, we're able to cathartically be mad at the evil lawyers in Millions. This film owns the phrase 'we laugh to keep from crying'. Saying it out loud makes the film sound heavy and in no way a good way to spend a Friday night! It's assured that duo Richard Pryor and John Candy carry this movie into an absurd and savvy satire.
Break free from the couch for a night, shake things up a little and get creative. The best thing about watching movies outside is you can bring your own snacks (or pizza), comfy pillows, and your favorite blanket (something movie theaters never let you do)! At Newfields, you can also purchase food and beverages when you arrive, and you can expect entertainment before the movie starts at dusk. There is no better place to escape from the humdrum of everyday life than to be under the stars and listening to the crickets while immersing yourself in an old favorite, or maybe a new movie, with friends and family at Summer Nights.
Exhibition Credit:
The Summer Nights Film Series is generously supported by The National Bank of Indianapolis.