Blayne "Wavy" McCrary: Local Legend
Blayne McCrary's nickname, Wavy, says it all. He goes with the flow, but don't think that means he is satisfied with the status quo. He is a musician and is in two bands, Kinfolk and The Call. He is also a visual artist and a member of The Eighteen Art Collective. Wavy's visual artwork is vibrant and hopeful, and heavily influenced by street art and Japanese art and culture. I spoke with him in front of his piece, Crypto Goddess, in the final days of the exhibition We. The Culture: Works by The Eighteen Art Collective to talk about his life, career, and reflect on his professional journey.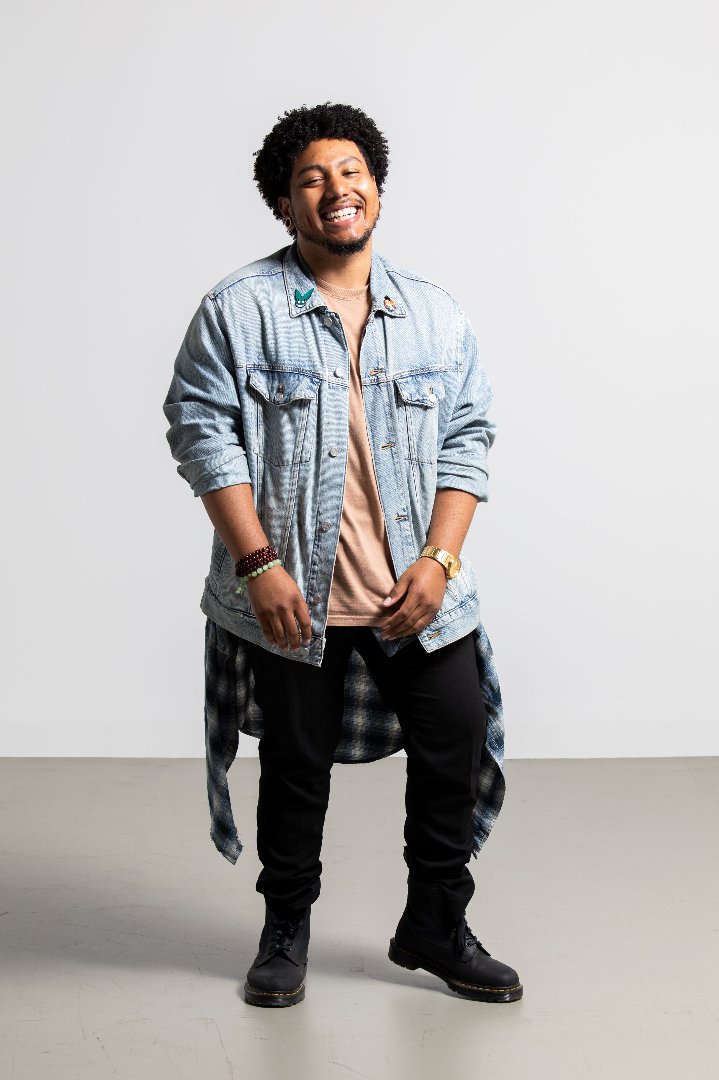 Emily Sogard (ES): How did you get involved with the Black Lives Matter mural in 2020?
Wavy McCrary (WM): I saw the open call on Instagram. At first, I was wary of it. Hey, we're in Indiana and I was seeing some backlash. I was nervous about my safety and my family's safety. But I can't be led by fear. I decided to act on that feeling in a productive way. I ended up with the M in matter.
ES: What was the content in the M?
WM: I painted an Afro-Samurai with the words "can you dig it" at the bottom. The message is quite simple, hey, Black lives matter, can you dig it? Can you dig it is a lyric from The Friends of Distinction song Grazing in the Grass. It goes, "Grazin' in the grass baby, can you dig it? What a trip just watchin' as the world goes past." A playful nod to late 60s and 70s music.
ES: Music and Japanese culture are heavy influences in your visual art, can you tell me more about that?
WM: I am very into music. At the time of the mural, I was a producer for hip-hop and R&B artists in Indianapolis. I had just finished a collab with a good friend of mine, Greg Rose, it was a ballet production called The Art of Black Thought. I have always been into anime. Mr. Steward my art teacher at Pike High School nurtured my love for drawing. He pushed my craft and challenged me through new techniques and perspectives. By sophomore year, I was into street art, tagging and sketching up my notebooks. It was a time of discovery as an artist.
ES: How has your life changed since the Black Lives Matter mural?
WM: My life changed for the better. I had a baby, that was crazy (laughs), my son is the coolest. His name is Micah. The founding of The Eighteen brought on so many new opportunities for me to support my family, and to express my feelings through my art, and to have support of a platform. It has been a transformative experience, and it keeps on going. The more I say yes to things, the more opportunities keep arising.
ES: What has been your biggest "yes" yet?
WM: I'm not going to lie, this exhibition, We. The Culture: Works by The Eighteen Art Collective. I have been coming to this museum, the Indianapolis Museum of Art, my whole life. Never in a million years would I have thought to myself, I'm going to be an artist and I'm going to have my work on these walls. It just wasn't attainable to me. When I was a kid I thought, all of these artists are gone, these pieces are OLD! Now, being here, is a full circle moment. When I walk through these galleries, I see a lot of the same pieces I looked at as a child, and mine is hanging here too. It is a powerful feeling.
ES: We. The Culture closes this weekend. What's next for you?
WM: As far as painting, I have a lot of projects planned, but I can't share a lot of them yet. One exciting thing I can share is, I have plans to travel to discover my Latino heritage. I'll go to San Antonio, Dallas, LA, and meet family in Mexico City. I'm going to research and speak with historians and relatives along the way, and my goal is to write one song and create one piece for every place I visit. I am going to take time to discover who I am. For my Black side, I know what that is, but I am still discovering what it means to be Afro-Latino.
He added at the end, "It's bittersweet. It has gone by so fast. It doesn't make any sense—like what!?"
Join Wavy and other artists from The Eighteen Art Collective on Friday, September 22, 2023 to send off the We. The Culture: Works by The Eighteen Art Collective in style.
Exhibition Credits:
We. The Culture: Works by The Eighteen Art Collective is presented by Aaron Wealth Advisors, Gary & Hannah Hirschberg. Lead support is provided by Rachel M. Simon & the Herbert Simon Family Foundation and June McCormack. Associate support is provided by IceMiller and its Racial Equity Solutions Team. Additional support is provided by Judy Donner, Nathan & Deborah Oatts, and Emily A. West.
Image Credits:
Installation view of We. The Culture: Works by The Eighteen Art Collective in the June M. McCormack Forefront Galleries, September 23, 2022–September 24, 2023. Artworks © their respective creators.