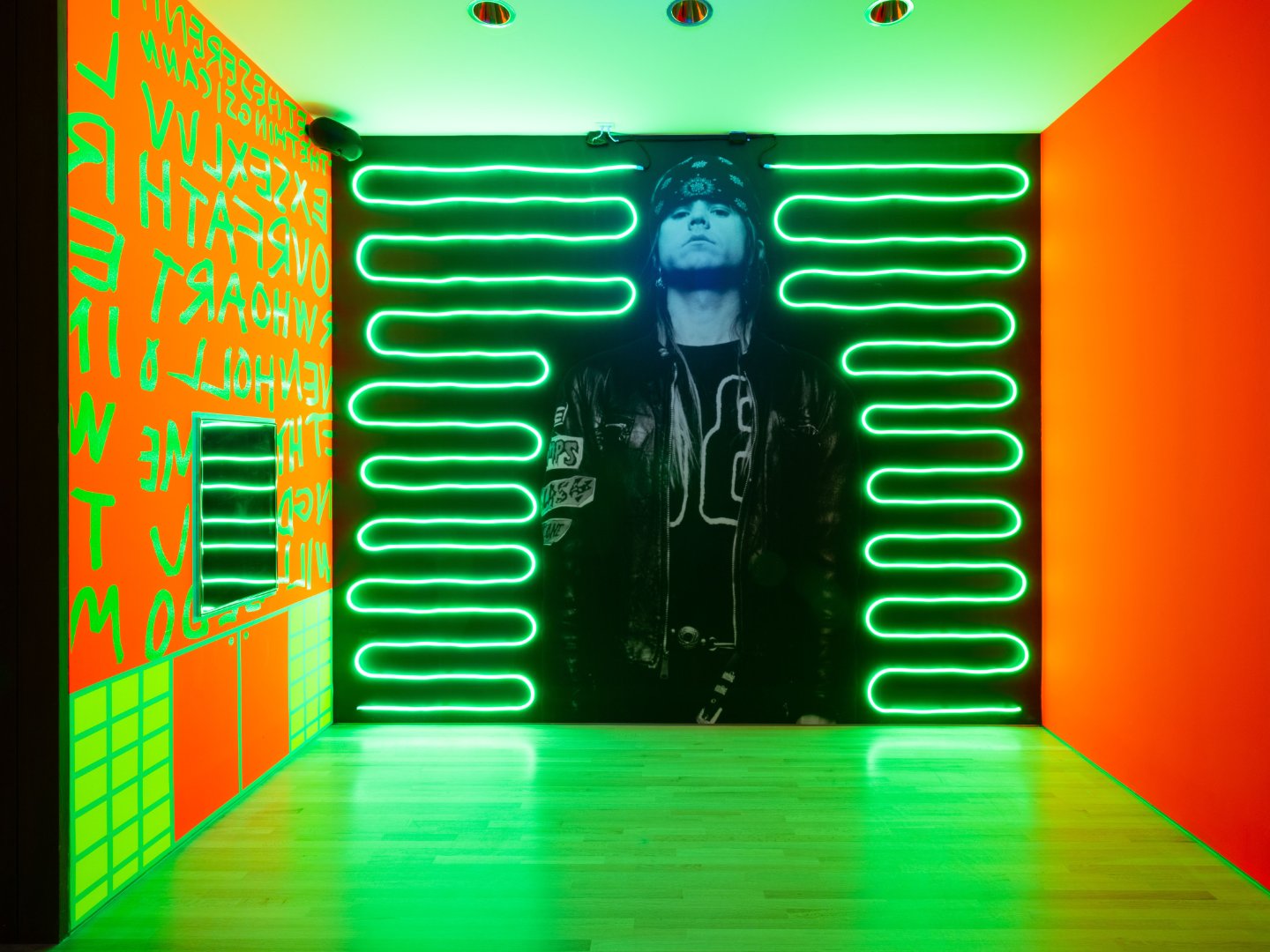 Background image & image above: Installation views of Stephen Sprouse: Rock | Art | Fashion in the Allen Whitehill Clowes Special Exhibition Gallery, July 16, 2022–April 2, 2023. Artworks © Stephen Sprouse.
Above: Portrait of Stephen Sprouse (detail), 1988. Photo by Doug Myers. Courtesy of Mauricio and Roger Padilha.
The vivid fashion exhibition, Stephen Sprouse: Rock | Art | Fashion, reintroduces Hoosiers to an innovative artist and designer, who was born in Ohio in 1953, but raised in Columbus, Indiana and has strong ties to the Indianapolis Museum of Art. In fact, as a teen, Sprouse would drive up from Columbus to visit the IMA with his friends. Sprouse is one of several designers with Indiana connections who made significant contributions to American fashion in the late 20th century.
An artist from an early age, Sprouse's brother Bradford recalled that in his youth Stephen would design full fashion collections every season, just for fun, and always carried a marker in his pocket for impromptu sketching. The Sprouse family was supportive of his artistic endeavors. In 1966 Stephen's father took him to New York City to meet Norman Norell, a notable fashion designer originally from Noblesville. Later, Sprouse interned with Bill Blass from Fort Wayne. After studying for a semester at the Rhode Island School of Design, Stephen left and moved to New York City. Stephen began working in 1972 as an assistant to Halston, who was raised in Evansville, IN. At Halston, Stephen learned the importance of fine materials and construction. You can see references to Halston in some of Stephen's silhouettes and his use of fine wools and silks.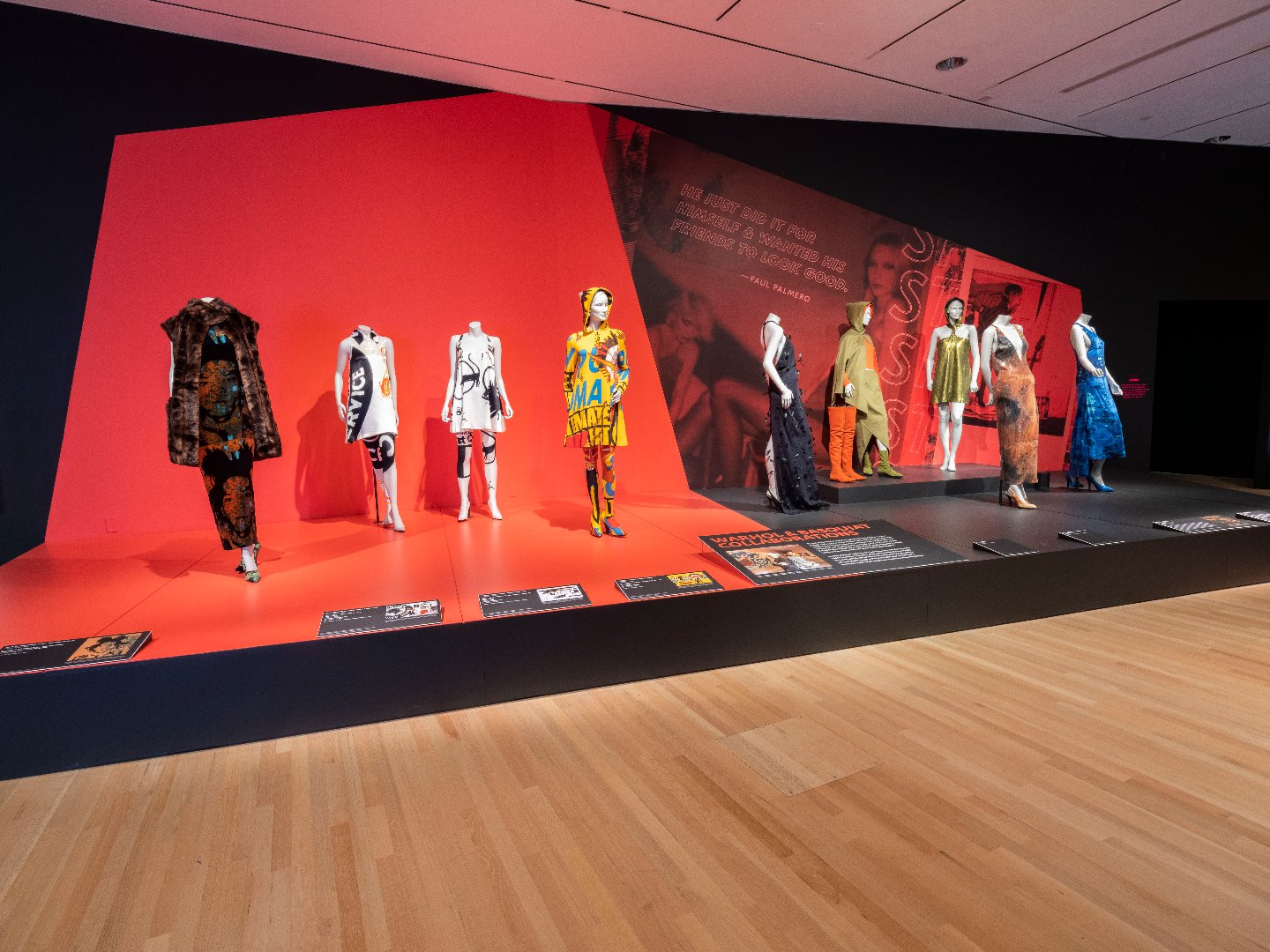 Installation view of Stephen Sprouse: Rock | Art | Fashion in the Allen Whitehill Clowes Special Exhibition Gallery, July 16, 2022–April 2, 2023. Artworks © Stephen Sprouse.
A major step in his career as an independent designer was, coincidentally, moving to an East Village loft. There, he met his neighbor, Debbie Harry, front woman for the rock band Blondie. Stephen began to dress her, both onstage and off, and his "Scan lines" design was featured in the music video for Heart of Glass, in 1979.
Stephen's early collections were in 1983 and 1984 and featured bright Day-Glo colors, graffiti, and NASA imagery. You will find examples of these early designs in the exhibition. Stephen presented collections throughout the 1980s and 1990s, each with the same attention dedicated to materials and construction. A constant in Stephen's career and personal life was his connection to the "Downtown" scene in New York City. Stephen was friends and contemporaries with artists including Andy Warhol, Keith Haring, and Jean-Michel Basquiat. He was inspired by his friends' works of art and designed collections using their imagery on his garments. Sprouse was given special permission to use Warhol imagery on his designs in 1987 and again in 1998, the only designer ever allowed to do so. Aside from Debbie Harry, Stephen also worked with musicians Iggy Pop, Axl Rose, Mick Jagger and others. His style inspiration was deeply rooted in New York City, in the rock music, the underground culture, and the club scene.
We can see Stephen Sprouse's impact on the current fashion world. Today's street style trend is influenced by how Sprouse took elements of the youthful, counterculture aesthetic of the 1970s and 1980s and elevated them to high fashion. Graffiti was an accepted artform on buildings and could be seen on leather jackets and denim in the punk scene, but in 1983 Stephen took it to the runways, and in 2001 reinvigorated one of the world's most recognizable luxury brands, Louis Vuitton, with his use of graffiti over the "LV" monogram on purses and luggage.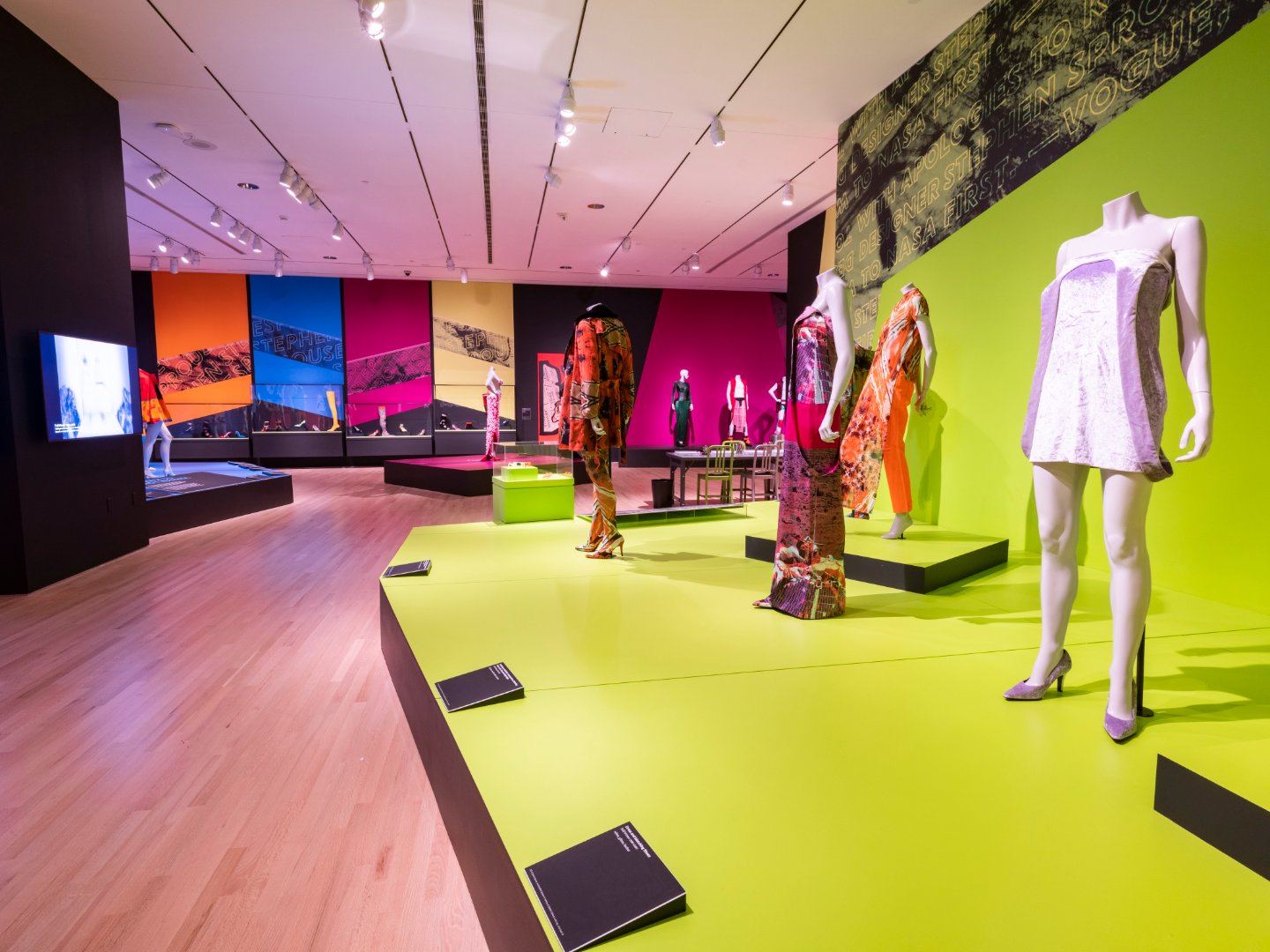 Installation view of Stephen Sprouse: Rock I Art | Fashion in the Allen Whitehill Clowes Special Exhibition Gallery, July 16, 2022–April 2, 2023. Artworks © Stephen Sprouse.
The later years of his career were noted for successful collaborations. In 2002, he designed "Americaland," for Target, a patriotic summer collection that is one of Sprouse's few forays into affordable fashion. In 2003, Iconic furniture design firm Knoll invited Stephen to create a collection that mixed neon colored camouflage with graffitied excerpts from the Declaration of Independence. Sprouse's collaboration with Knoll would unfortunately be his last, as he died at the young age of 50 in 2004.
The Indianapolis Museum of Art at Newfields is now home to the Stephen Sprouse Fashion Collection and Archives through a generous donation from the Sprouse family. This gift includes more than 10,000 pieces that includes garments, accessories, sample textiles, sketches, press clippings, and Polaroids. Our Sprouse connection began in 2012 when Niloo Paydar, Curator of Textile and Fashion Arts, reached out to Stephen's mother Joanne, in preparation for the exhibition An American Legacy: Norell, Blass, Halston and Sprouse. In late 2018, the time came for the family to decide where to donate the archives and garments from his NYC studio, they chose Indianapolis. The gift was given with the hope that it would allow many devotees of rock, art, and fashion to appreciate it in context, and where it broadens the scope of our fashion collection which has a special emphasis on Hoosier designers.
The exhibition, Stephen Sprouse: Rock | Art | Fashion will be on view in the IMA Galleries through April 2, 2023.
Lead support for Stephen Sprouse: Rock | Art | Fashion is provided by Target, Absolut Vodka and the Jan B. Rubin Art Exhibition Fund. Generous in-kind support is provided by RALPH PUCCI International, KCD PR, and Louis Vuitton. Additional support is provided by Amy Curtiss Davidoff and David Phillips.