Rae Parker is a gentle soul. Their voice is soft, and difficult to hear over the music playing through the speakers in the We. The Culture Works by The Eighteen Art Collective exhibition at times. When they speak though, you lean in to listen, you want to hear their story. I spoke with them on a Friday afternoon after they had finished up with carpool duty at school where they are an art teacher. They discussed their inspiration from current events and music, particularly hip hop, and their desire to amplify a message of pride and unity through their artwork.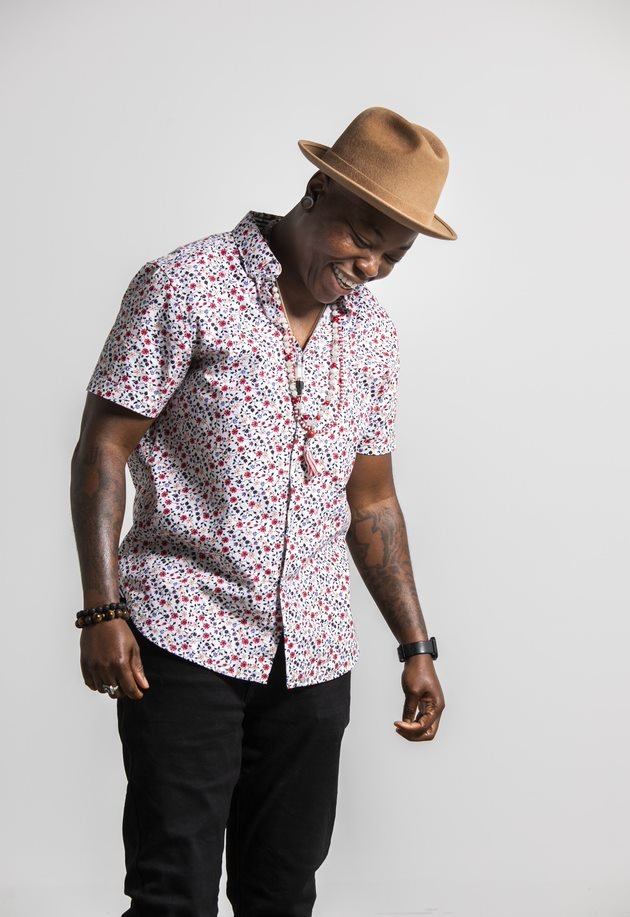 Emily Sogard (ES): Tell me about yourself.
Rae Parker (RP): I was born and raised in Newark, New Jersey. My mom moved us to Indianapolis for better schools and education. It was a huge culture shock for me—there were KKK rallies in downtown Indianapolis. It freaked me out. But it sparked something in me. It gave me the energy not to be afraid to tell, or show, my story visually.
ES: Tell me about your process.
RP: Culture and current events are often sources of inspiration, but also music. I have to have music when I create. It's a huge part of my creative process. I will keep one song on repeat and see where it takes me.
ES: What song did you have on repeat for your piece in We. The Culture?
RP: "Can You Feel It" the iconic 1980s house song by Mr. Fingers. A piece may take me months to finish, but this piece I did in three days, it's all about the music.
ES: Can you talk more about the culture of the ballroom scene and music?
RP: "Can You Feel It" is a dance hit that was popular in the ballroom scene. Ball culture has been around forever and it still exists today. The ball scene is a safe space for Black queer teens and young people to connect. It is all about glamour, fashion, the moves—it's proud, "Look at me, glittery, embellished." Queer people who are expelled from their families often find chosen family in the ball scene, called houses. Each house has its own personality.
ES: What other elements of the houses did you incorporate into this work?
RP: The hands are inspired by Willi Ninja, of House Ninja, who created voguing, the dance move that Madonna made famous in her 1990s music video. The colors and embellishments are a nod to the era. The mask is also an important element of being able to be fully yourself.
ES: This piece is about pride and acceptance. How do you feel about where you are today?
RP: I can't even wrap my head around it. My big dream was to be an artist and a veterinarian. One of those dreams came true, and it is the result of a manifestation I have been working on for a long time. I had to learn to be patient with it. It is still so surreal, to be standing here in front of my piece in a museum that that has work by Rembrandt. To hear my family tell me how proud they are of me has been the greatest joy as well.
ES: What advice do you have for young artists?
RP: Be patient. Don't give up when things don't happen when you want them to happen. It is hard but try not to compare yourself to other artists. Everyone has their own process and it makes you even more proud when it does.
Come see Rae's large multimedia painting, No Shade: Tribute to Black Queer Joy, at We. The Culture Works by the Eighteen Art Collective through September. Follow them on Instagram @rpartdesigns and on Facebook @Rae Parker Art & Design. You can find their work on their website at raeparkerart.com.
Exhibition Credit:

We. The Culture: Works by The Eighteen Art Collective is presented by Aaron Wealth Advisors, Gary & Hannah Hirschberg. Lead support is provided by Rachel M. Simon & the Herbert Simon Family Foundation and June McCormack. Associate support is provided by IceMiller and its Racial Equity Solutions Team. Additional support is provided by Judy Donner, Nathan & Deborah Oatts, and Emily A. West.