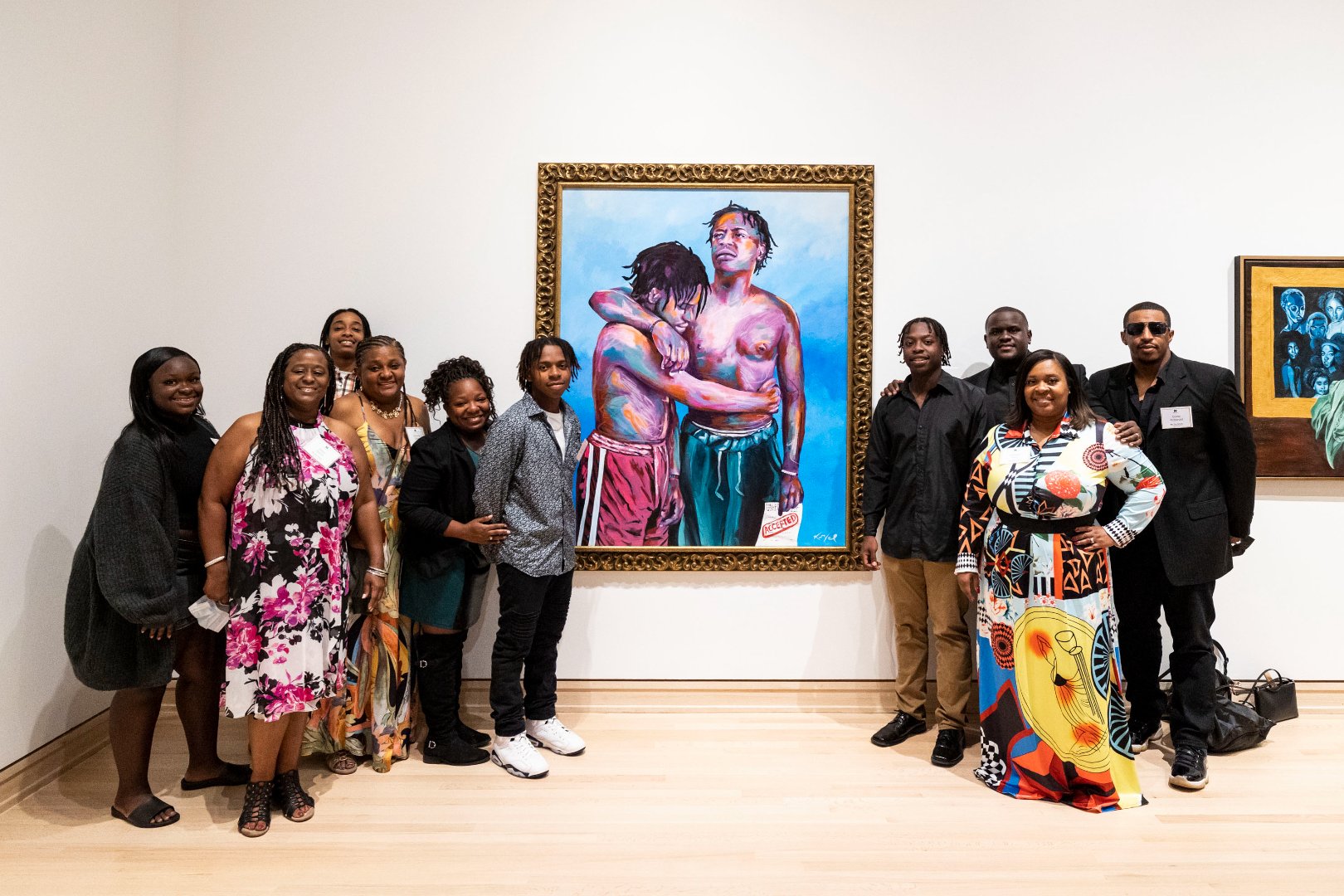 Kevin West is a seasoned artist with more than 15 years of experience under his belt. I visited his studio and spoke to him about his art-reprenuership and the story behind his encapsulating painting in the We. The Culture: Works by The Eighteen Art Collective exhibition in the Indianapolis Museum of Art at Newfields through September 24, 2023. See our conversation below.
Natalya Herndon (NH): Let's start with you telling me a bit about yourself.
Kevin West (KW): My name is Kevin West. Of course, I am a member of The Eighteen [Art Collective]. I am originally from Indianapolis, IN. I started taking [art] seriously in like 7th or 8th grade. Once I got to high school, I had an art teacher who was also a football coach and he really, really took art seriously. He was just as insistent about art as he was on the football field. We were blessed to go down to Georgia Tech for an art competition and that was my first introduction to fine art outside of Indiana.
I ended up getting a basketball scholarship at a junior college in Illinois. After three years, I tore my knee and came home and had to figure out what I was going to do. Art had always been my number two thing. I had a bunch of paintings in my mother's garage from high school and she was like, 'Now that you're home this stuff's gotta go'. So, I had my first solo show in the Indianapolis City-County building. I took about 15-20 pieces and sold 7 or 8 of them. And in my mind, I was thinking maybe this is something I could do long term.
NH: So how did you become a full-time artist?
KW: I was going to art school and ended up meeting my wife and getting married. I was working full-time as a quality control supervisor and still doing my artwork on the side. I loved my job, but it just wasn't satisfying to my spirit. I felt like fine art was my calling. God blessed me with a gift and I should be doing this full-time. I didn't realize that there was an entrepreneurial side to it as well. So, I quit my corporate job and got a job making $8 an hour at the Boys & Girls Club of Indianapolis teaching art. I thought my artwork was going to take off and start selling and that I'd be able to cover all my bills, but it was the worst year of my life.
NH: So how did you go from that to a successful artist and entrepreneur?
KW: I left my job three times to pursue my artwork full-time. The first time I failed, the second time it got better, and the third time I knew exactly what I needed to do to sustain myself and my family financially. I want to say it was five years ago when I finally got with an accountant and had them go over everything. They said, 'You're on pace, and if you can sustain this, then you should be able to do art full-time.' The first time I quit it was just a burning desire on the inside but no real plan to back it up.
NH: Your piece Black Joy is the first thing guests see when they walk into We. The Culture at Newfields. What was your inspiration? What is the story behind the the two boys in the painting?
KW: Yeah, those are my two little cousins. The story is that the big bother got his acceptance letter from Ball State University and he's about to go off to college. Once big brother got his acceptance letter it got real for his little brother that this was going to be the first time they would be apart. He went through a period where he was acting out because he wasn't able to express his emotions. He was feeling like he was losing his big brother. It's Black joy because it's a joyous occasion, but unfortunately, our joy isn't really joy, it's bittersweet joy.
NH: As I am looking around your studio, I see a lot of Black people depicted in your work. Is that intentional?
KW: For the first 8 to 10 years of my professional art career, I did predominantly contemporary abstract art because it appealed to everybody and sustained me financially. Eventually, I started working with an art dealer who was in the Black fine art market, and I realized there was a base for the art I liked making. I aways wanted to paint my experience and show comradery in a representational and colorful way, so people who aren't in our community and don't see the beauty in it can come in and look at it differently. We can see the beauty in young African American males with locs or beads where others might be afraid. In most of my pieces I am always trying to show that we are cultured and we are beautiful.
Keep up with Kevin on Instagram, @ArtByKWest or on his website kwestfineart.com. You can also see his artwork in the Cincinnati Art Musuem, The Black Fine Art Fair of Ohio in November.
Exhibition Credits:
We. The Culture: Works by The Eighteen Art Collective is presented by Aaron Wealth Advisors, Gary & Hannah Hirschberg. Lead support is provided by Rachel M. Simon & the Herbert Simon Family Foundation and June McCormack. Associate support is provided by IceMiller and its Racial Equity Solutions Team. Additional support is provided by Judy Donner, Nathan & Deborah Oatts, and Emily A. West.
Image Credits:
Installation view of We. The Culture: Works by The Eighteen Art Collective in the June M. McCormack Forefront Galleries, September 23, 2022–September 24, 2023. Artworks © their respective creators.