Harriet Watson: Local Legend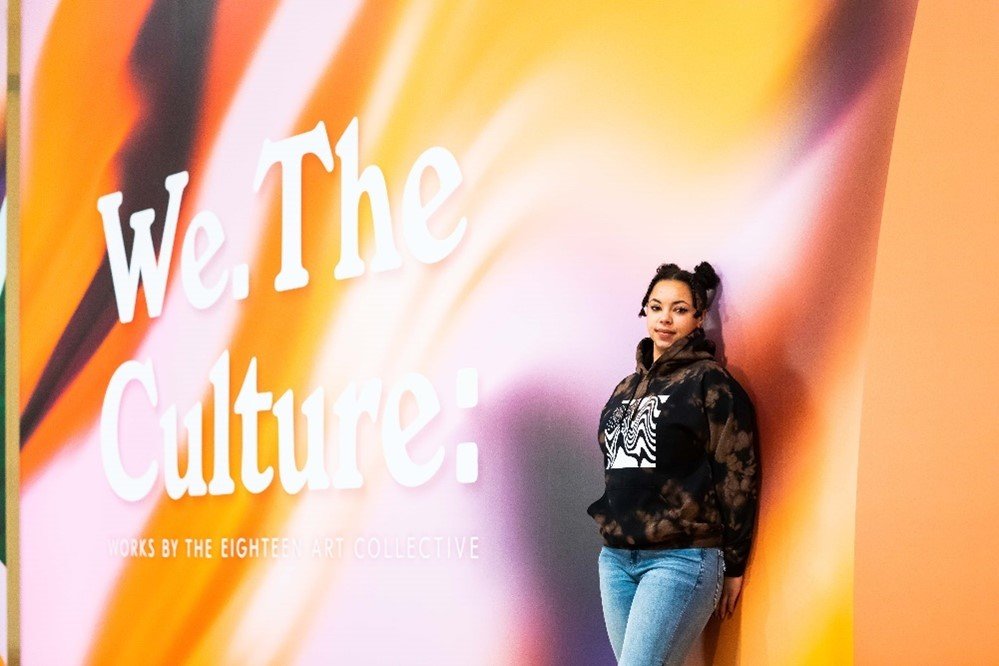 Harriet Watson is a young artist and activist who uses art to amplify her message—calling out the dichotomy between tokenism and welcoming environments for Black people. A feeling she knows well. To those who do not know her as an artist, she may appear soft-spoken, but as I got to know her during this interview in her home studio it was clear her work is her megaphone. Take a look at our conversation below: 
Natalya Herndon (NH): Tell me about yourself.
Harriet Watson (HW): I am Harriet Watson and I was born in Greencastle, IN. I went to Indiana University in Bloomington for college and earned my bachelor's degree in Psychology in 2020. At the time, I was looking for something that would help me express how I was feeling, while so many Black people were being killed by police. I saw the callout for artists to apply to participate in the Black Lives Matter mural project in Indianapolis, so I applied. When I met everybody during the mural process I was like, I need to be around these people more often, I need to move here. So, I moved to Indy last June. ​​​​​​​​​​​​​​

NH: How does your identity inform your work?
HW: Basically, my art is a reflection of how I feel my identity has been perceived by other people and how they wanted me to be a certain way because I am biracial. For instance, my ex's grandma asked me why I wasn't raised white, and I was shocked. Then, last year I was asked that again, by a neighbor. I was like 'well this is an interesting question.' I never considered that, but I can't choose. That definitely fueled something inside of me.

NH: That is a good segue, can you walk me through your process from the initial idea to the piece being completed?
HW: I guess it depends, for my own art I tap into my emotions. I really use art as a diary of expression. I also get a lot of inspiration from music. Lyrics help me create an image in my mind that I want to produce.     ​​​​​​​

NH: Are there any artists that inspire you?
HW: Emma Amos is a Black artist that I love. Betye Saar and Alison Saar too, because they make controversial art but also kind of humorous art. I like art that's serious, but you can laugh at it at the same time. For the Black Lives Matter mural, I knew I wanted to do something with words or lettering, so I messed around with designs. But I wasn't coming up with anything that I liked. So, I started looking at my old art history textbooks and I discovered Faith Ringgold again—and she literally makes protest art, using typography and minimalist colors. Which is what I modeled my letter in the Black Lives Matter mural after.

NH: Do you consider yourself an activist?
HW: I've always been an activist. It hasn't necessarily always revolved around art but that is the easiest way for me to express myself.

NH: What are you working on right now? 
HW: A couple of things, I am a portrait artist at heart and I do a lot of self-portraits. I like to be kind of surreal and shocking. Right now, I am working on a series of clown paintings, and I am painting myself as a clown. I also do murals, I'm working on one right now for Butler and I like that because it is like critical thinking. The client gives you elements that they want and then I research or figure out the best composition and we go back and forth. I kind of like that person-to-person element of art. It's definitely a challenge when you don't have full control of it, but I like that balance in my life. 

NH: Can you discuss what you want people to think about and talk about after viewing your piece in the museum?
HW: I hope that people try to put themselves in the shoes of a minority or really anybody that has been in a situation where they feel like 'I'm not wanted here.' I want people to talk about the human connection in the piece and how we can be more sincere with each other and with ourselves. My piece is about feeling like you can't be Black in a space without being invited or without being there for a sole reason.
Harriet's digital image, Welcome (2022), is currently on view in We. The Culture Works by The Eighteen Art Collective at Newfields, where you can see it through September 23, 2023. 
You can keep up with Harriet by following her on IG at @harrietmakesart.
Exhibition Credit:

We. The Culture: Works by The Eighteen Art Collective is presented by Aaron Wealth Advisors, Gary & Hannah Hirschberg. Lead support is provided by Rachel M. Simon & the Herbert Simon Family Foundation and June McCormack. Associate support is provided by IceMiller and its Racial Equity Solutions Team. Additional support is provided by Judy Donner, Nathan & Deborah Oatts, and Emily A. West.