Conserving Who's Your Tree
At nearly 15 feet tall, Nam June Paik's Who's Your Tree is a commanding presence in the Indianapolis Museum of Art at Newfields, truly living up to its name in evoking a tree. It has long been a favorite piece in the contemporary collection, and it was a must-have for The Message is the Medium: Contemporary Art. However, conserving this complex sculpture was no easy task.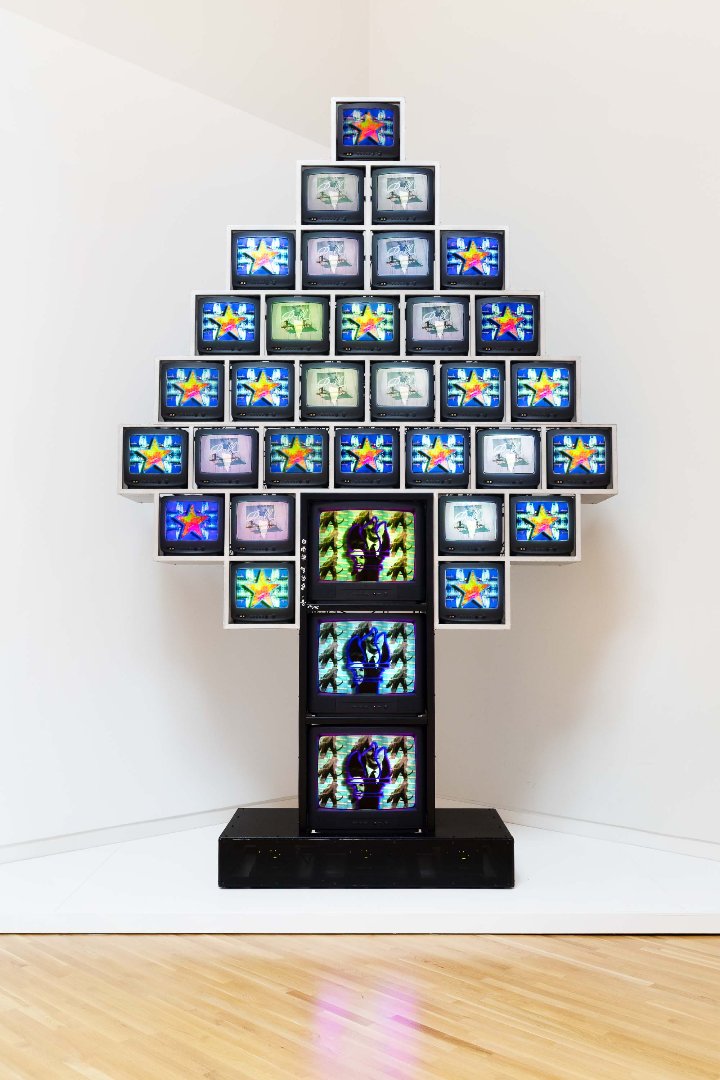 The video installation is composed of 31 thirteen-inch cathode ray tube (CRT) TVs to make up "leaves and branches" and three twenty-five-inch CRT TVs for the "trunk." The 31 smaller televisions play two different video feeds while the three larger televisions play a third. Each of the TVs receive their video feed from a coaxial (coax) cable plugged into the video port. DVD players deliver the feeds via custom-made splitters. All the TVs and corresponding electronic equipment are housed in a coated aluminum structure that bears the artist's signature. The video contents feature iconic symbols and representations of Indiana including drag races, the state flag, native wildlife, and residents of the Hoosier state. The videos mirror the Indiana state flag with 19 stars and torch images as well.
As you can imagine from the mere description of the artwork, the complexity of the piece itself was a bit intimidating at the onset. Although I was familiar with time-based media and had installed TBM at other institutions, I'd never done interventive treatment on this type of object before.
Time-Based Media or TBM is a subset of new media that incorporates elements such as video, sound, and computer technology, and must be experienced over a certain duration of time rather than instantaneously like a painting or photograph.
During my initial inspection of Who's Your Tree, one TV appeared not to turn on, two flickered on and off, and at least half a dozen more had scrolling, fading, and notable burn-in on the screen. I immediately knew that this project would be probably the biggest of my career to date and would require significant collaboration with a multitude of Newfields colleagues, each with specialized knowledge in digital preservation and audio-visual (A/V) equipment, as well as other conservators who work with time-based media.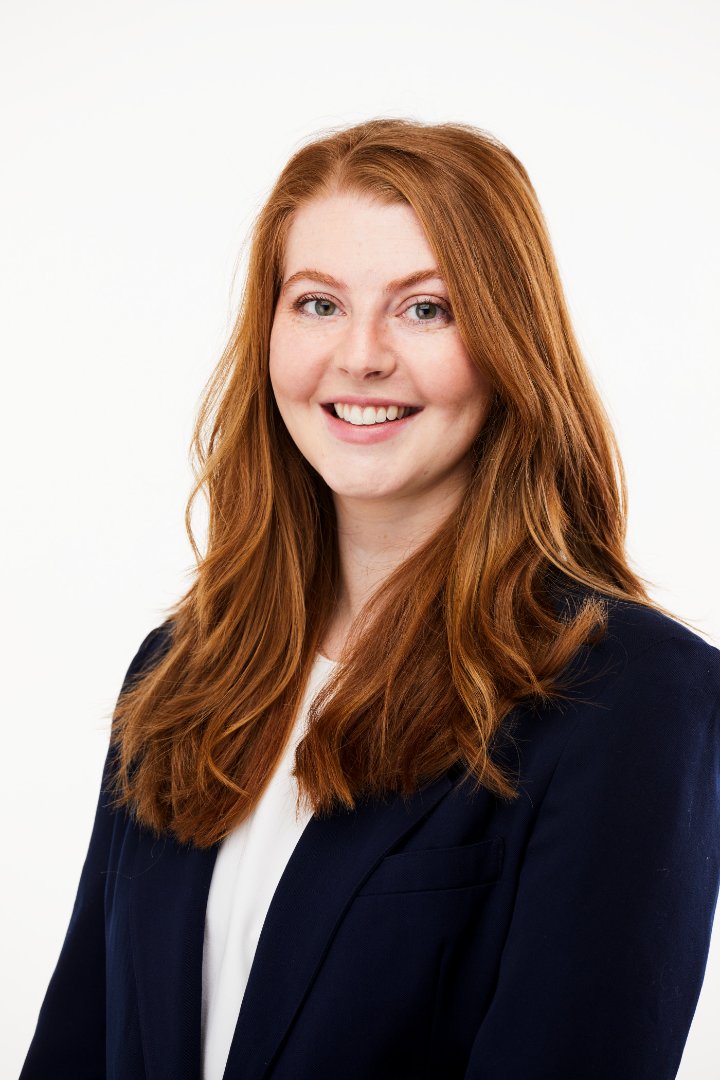 Allison Slenker, Assistant Conservator of Objects
"I immediately knew that this project would be probably the biggest of my career to date..."
Alongside two of my colleagues here at Newfields—Sarah Trew, Curatorial Assistant for Contemporary Art, and Lance Pruitt, Collections Support A/V Technician—I took a pragmatic approach. First, we replaced all the original coax cables. As the original cables aged, the connections between all the devices were beginning to fail. From this singular step, we were able to diagnose that the TV that didn't not turn on had connection issues, not internal power issues. We were able to remedy several of the flickering TVs as well. This led us to replace all video splitters with custom replacements, thus stabilizing the power and video being delivered to all 34 TVs. This was a huge relief and breakthrough for our artwork as similar pieces by the same artist at other institutions have much more notable failures with the internal workings of CRT TVs.
Trew and I consulted with several of these institutions such as the Denver Art Museum and the Detroit Institute of Arts (DIA), as well as conservators in private practices and several specialists to better understand the observed failures of the technologies Paik used in his artworks. One of my former DIA supervisors, DIA Objects Conservator, Liz Homberger, offered us an opportunity to visit the museum and see their treatment of Video Flag X, another Paik artwork made of 84 CRTs in the shape of an American flag.
For the better part of a decade, the objects conservators at DIA had been working to determine how restore the failing and now obsolete CRTs in their artwork to bring Video Flag X back out on view. They collaborated with CTL Electronics, a NYC technology repair studio who worked with Paik while he was still alive, to manufacture custom LCD panels that were retrofitted into the CRT monitors, replacing the original technology. The new screens with more modern technology restore the color and clarity of the image and extend the life of the artwork. This pioneering treatment provides us at Newfields with a glimpse of what the future may hold for Who's Your Tree several years from now.
| | |
| --- | --- |
| Sarah Trew, Curatorial Assistant for Contemporary Art | Lance Pruitt, Collections Support A/V Technician |
Additionally, conversations with other time-based media specialists provided us insights into how we could improve the color quality and reduce image burn-in on each screen. We did this by two processes: degaussing and calibrating the color of each monitor. Degaussing essentially realigns the magnetic fields within the CRT TVs, which is what I am depicted doing in photo below. The color calibration is done by fine-tuning and measuring the red, blue, and green output using a standard, created by a color bar generator which can be seen on the left TV screen in the image above. Pruitt and I worked with Dr. Greg Smith, Senior Conservation Scientist at the IMA, to use a radiometer and the color bar generator to measure the quantity of red, blue, and green light emitted by each TV and observe which phosphor (that create the light) are starting to fail. Then we calibrated the color to be as true as possible to a CRT TV in mint condition.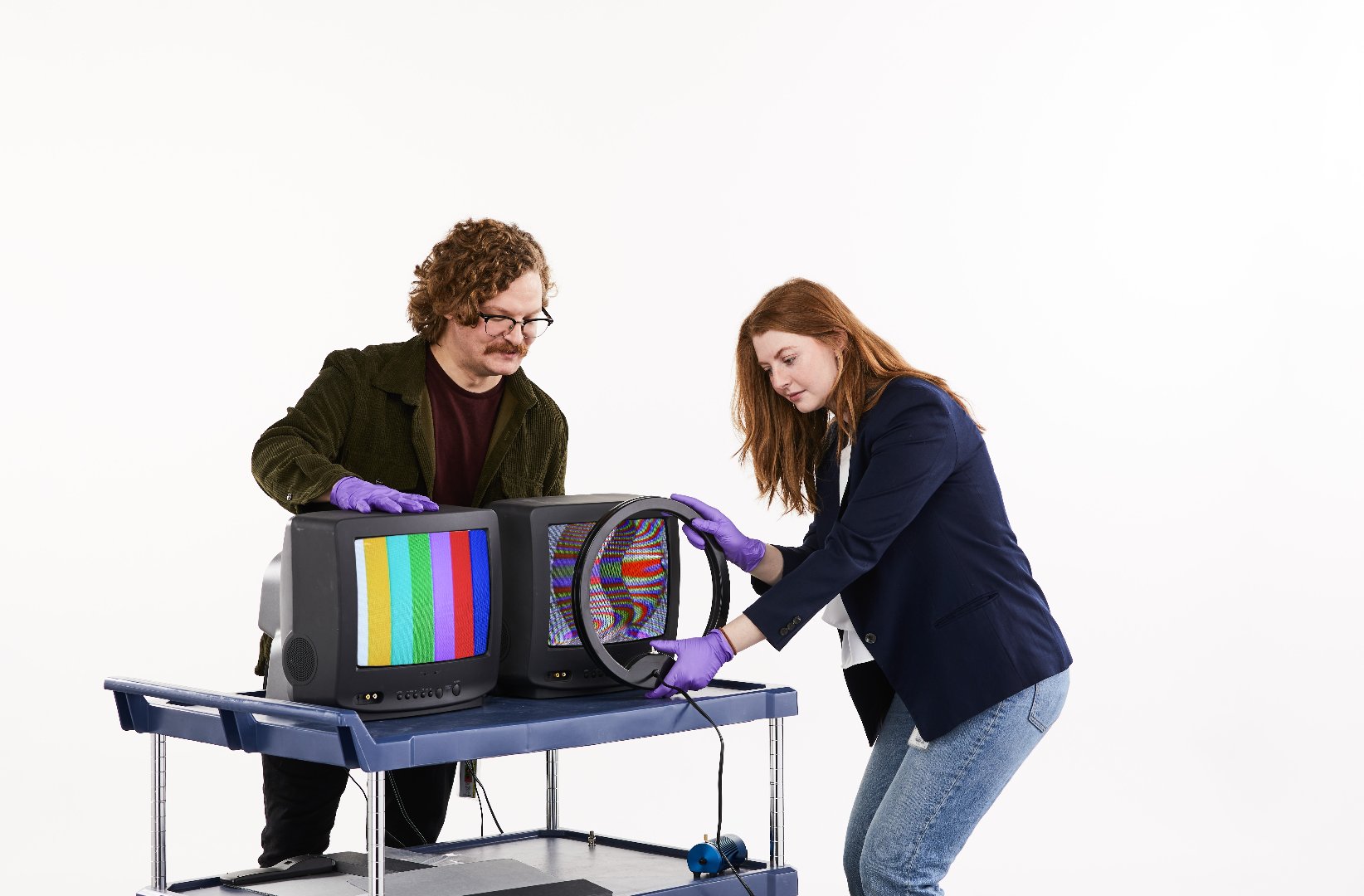 Thankfully, our team here at the Indianapolis Museum of Art at Newfields was able to successfully perform the conservation treatment and prepare Who's Your Tree for one year of display as part of The Message is the Medium: Contemporary Art, which opened in late July. After Who's Your Tree comes down, next steps for the project will include digitizing the three video files to be able to play them on updated technology (media players instead of DVD players) as well as continue researching and testing possibilities for the eventual retrofitting of the original CRT technology with updated screens within the current monitor. I'm immensely grateful and proud of our team for making this project possible and know that my work on Who's Your Tree is far from done. If you'd like to learn even more about the project and the conservation work that was done for The Message is the Medium, or to donate to support this work, visit give.discovernewfields.org/conservation.
Exhibition Credits:
Lead support for The Message is the Medium: Contemporary Art is generously provided by Alan and Sally Mills, Monna Quinn and David Spoelstra, Susan Jacobs and David Kleiman, Emily A. West, Phyllis Vernick, Links Creative Alliance, and Clayton Miller Law, P.C.
Image Credits:
Nam June Paik (American, born Korea, 1932–2006), Who's Your Tree, 1996, aluminum framework, (31) 13" CRT televisions, (3) 25" CRT televisions, (3) laser disk players, 174 × 108 × 24 in. Indianapolis Museum of Art at Newfields, Now and Future Purchase Fund and Robert and Ina Mohlman Art Fund, 1996.321 © The Estate of Nam June Paik.