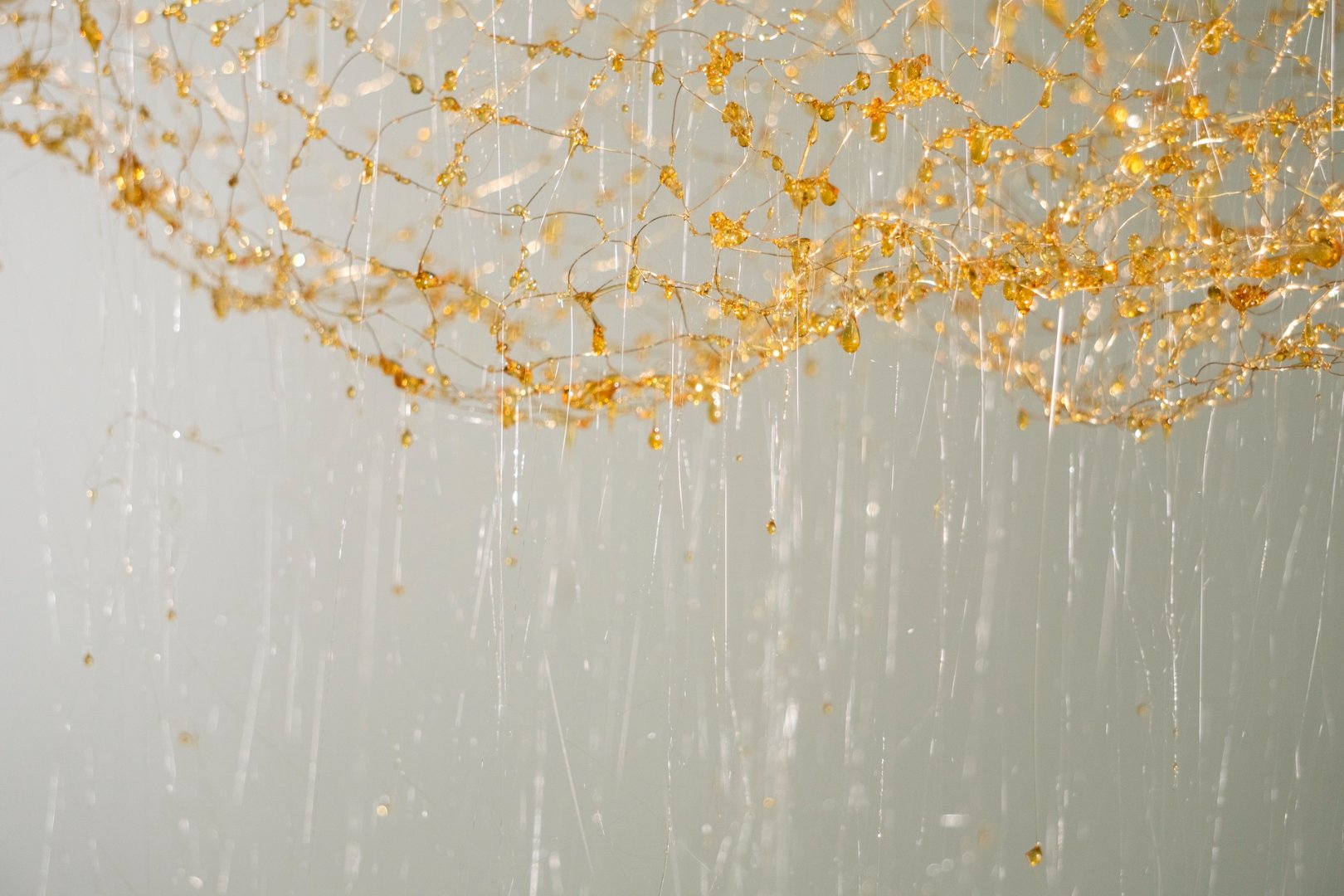 You are invited to join local artist Andrea Jandernoa on select Sunday afternoons from February through August as she works live in the Indianapolis Museum of Art on her ever-changing sculpture Foiled. The large sculpture made of sugar and hand-woven wire and will be suspended on the upper level of the Efroymson Family Entrance Pavilion in conjunction with the upcoming exhibition Sugar: Commodity and Confection in Art. The sculpture is the first of its kind on view in the IMA and will need regular maintenance throughout the run of the exhibition.
Foiled is a visually beautiful commentary on living with chronic illness. The on-going maintenance required of the sculpture is an important part of the artwork itself, said Jandernoa, who lives with diabetes. To create the sculpture, Jandernoa used a traditional fishing net-making technique to weave together a light, airy framework that supports the sugar. "Net-making is a repetitive and cyclical process, like managing my health," she reflected, and with a laugh added, "it also pokes my fingers while I work, like checking my blood sugar." When complete, the wire frame provides a sturdy yet flexible foundation for her to add melted sugar.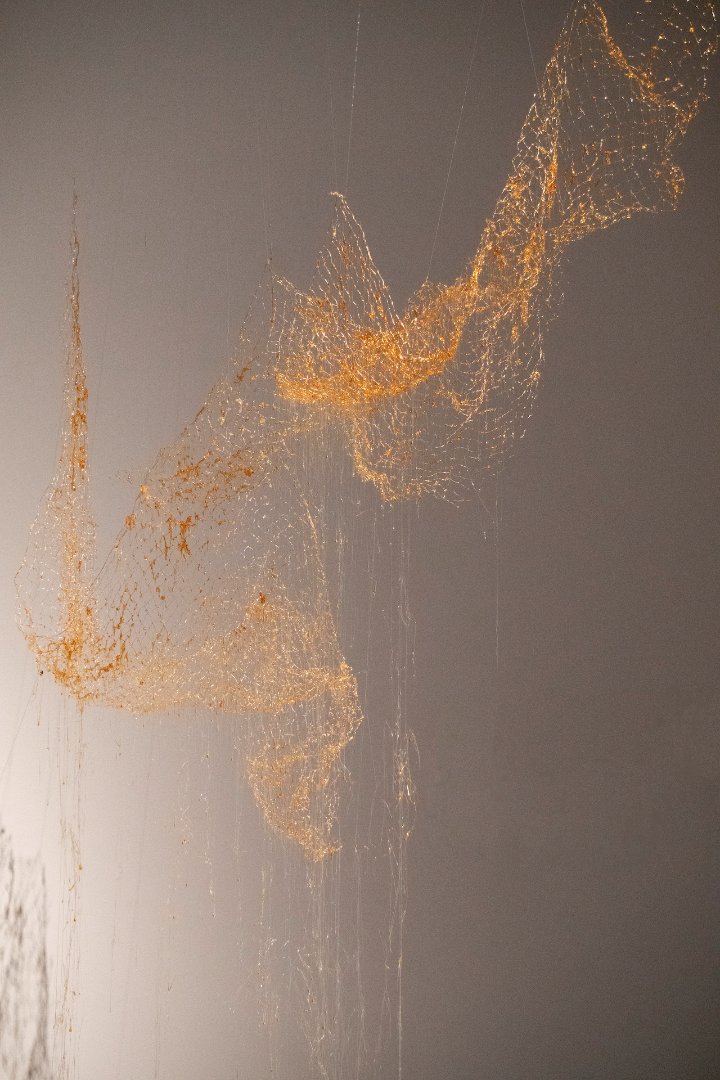 To apply the sugar, Jandernoa heats it to a liquid form, about 290 degrees Fahrenheit, and slowly pours it over the frame as it cools and solidifies. The sugar hardens quickly, and the result is a stunning amber colored coating over the wave-like frame. Over time, the sugar will change depending on environmental factors. Most commonly, she says, the hardened droplets and spider-like strands of sugar absorb water from the air and slowly fall to the floor. Additionally, hardened pieces will crack off as air circulates in the gallery space.
"I can't predict exactly what will happen every time, which is part of the beauty of working with organic materials," she says. Like the human body, Foiled is unpredictable and beautiful, and requires care and patience to maintain its beauty and form.
Jandernoa will be at Newfields tending to the sculpture on select Sunday afternoons: February 27, March 13, March 27, April 10, May 1, May 22, June 12, June 26, July 17, August 7 from about 2-3 PM. Remember, the process is unpredictable, so actual times may vary.
Jandernoa is excited to share the process with guests and answer questions as she works, and she will go ahead and answer her most frequently asked question now—Can I eat it? To which she responds, Yes, you can, but it probably won't be very good, so please don't take a taste!
Andrea Jandernoa is a middle and high school art teacher at Midwest Academy, and studio art teacher at the Indianapolis Art Center. She maintains a studio (S38) at Circle City Industrial Complex and participates in First Friday regularly throughout the year. She has forthcoming exhibition, Ups & Downs, at Schwitzer Gallery in Circle City Industrial Complex on August 5, 2022 from 6-9 PM.
Image Credit
Andrea Jandernoa, Foiled (detail), 2019, wire and sugar, 10 × 6 × 7 ft. On loan from the artist. © Andrea Jandernoa.