Rebecca Robinson: Local Legend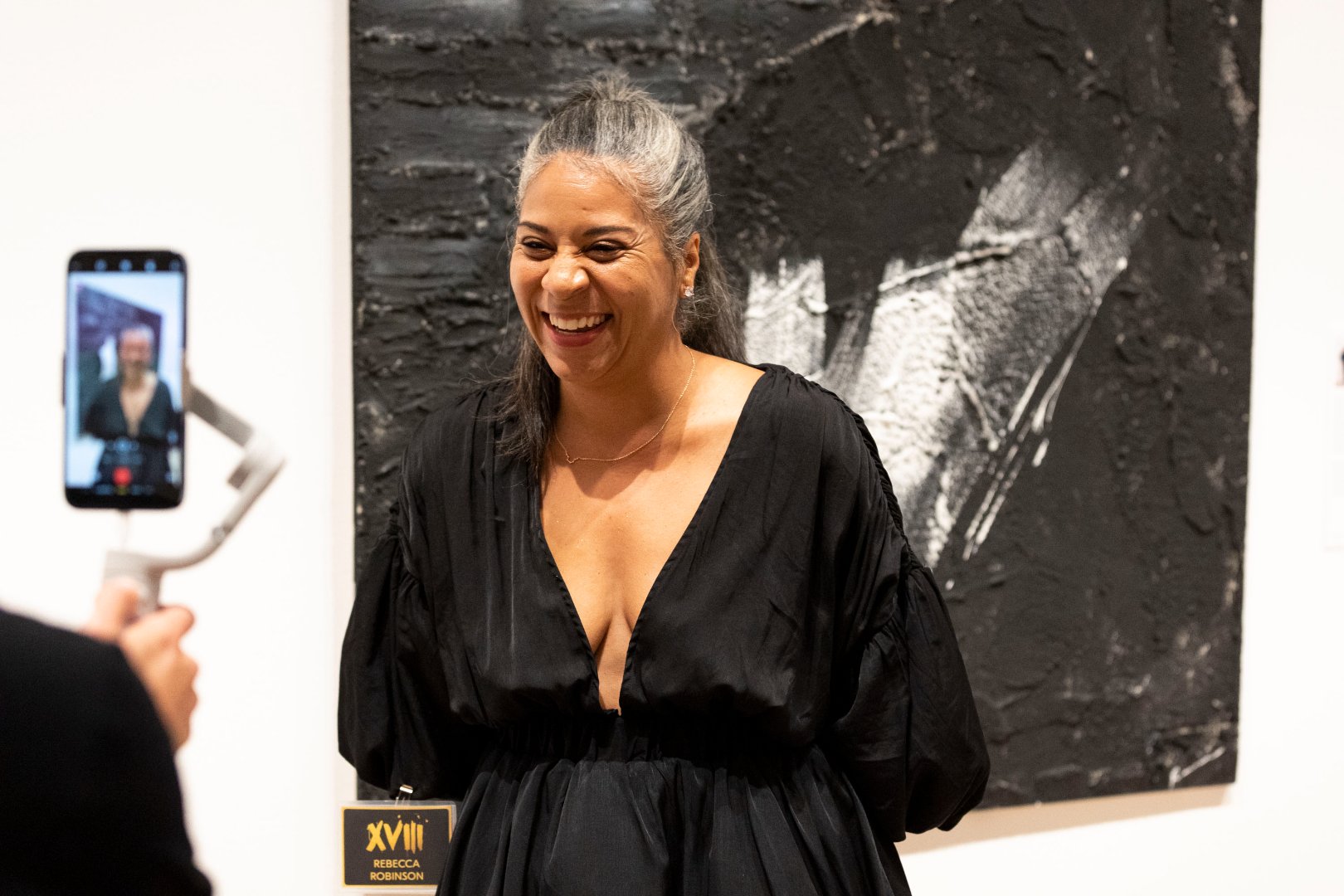 Rebecca Robinson's presence is light and bright like her ever-present laughter; which might make it hard to match the art with the artist. A fashion designer by education, Robinson is no stranger to color, but in this part of her life, she has traded in brighter elements for black and white hues and soft wearable textiles for the texture and grit of caulk, tar, and cement. I sat down with Rebecca in her studio, a small and charming space just north of Downtown Indy. We talked about life, the pursuit of art and the alchemy that she uses to transform pain into beauty.
Taylor Hurt (TH): How did you get your start?
Rebecca Robinson (RR): I studied fashion design at Bauder College in Atlanta. I was 18 or 19 years old, and it was when Freaknik was a thing, so it was the place to be. Then I went to college at North Carolina Central University, Durham for visual communications where I learned more about fine art beyond fashion.
TH: What caused you to transition from fashion design to the two-dimensional work we see from you now?
RR: I actually had a business, a handbag line called PSNOB (pronounced snob). I started in 2008 or 2009 when Sex and the City was popular, and people were getting into handbags. I created bags from my painted murals, but when I got into the department stores, they wanted volume and all of my bags were custom, I just couldn't keep up with demand.
TH: That sounds heartbreaking.
RR: It was. I came back to Indy and got married but I just wasn't happy and the relationship took a toll on my emotional and psychological well-being. My mother passed, and I was taking care of my father. It was a lot, and it impacted my art. I even stopped using color.
TH: So how did you come back from that moment in your life?
RR: Music made a huge impact. I was in my car and feeling depressed and I watched the Kendrick Lamar video Alright and the grittiness of the video contrasted with the uplifting message resonated with me. I went to Lowes and I got caulk, concrete, and tar and started creating. I put together six separate pieces of art to represent the six stages of abuse and people connected with them in a really powerful way. That moment felt validating.
TH: Your work still involves so much softness, but you use tar and concrete. How do you connect with that medium?
RR: My work was always very elegant and approachable, but the concrete was the part of me that was hard to express, because I've always been a smiling, positive person. The concrete speaks for the part of me that is a little bit rugged and rough and stern. Instead of feeling guilty about it I can channel it into my art.
TH: So how did you choose your piece for We. The Culture Works by The Eighteen Art Collective?
RR: I wanted something sculptural and that represented my love of ancient Greece and Rome, but I also wanted to highlight my journey, my strength and all of the challenges that I've been through. I started thinking about my life and all the difficulties that I've faced with integrity. And all the women that face hardships with dignity and grace and don't let it break them. That's why I titled it Ruins to Redemption. I wanted to see myself.
TH: I know you used those mediums in the Black Lives Matter mural on Indiana Avenue in 2020, how did you come up with that concept?
RR: I did a silhouette of a man kneeling, while staking a flag and I called it New Nation. I wanted this image to be symbolic; because for the first time, I was seeing so many people coming together for one cause, one purpose, one mission. I wondered what a new country would look like. A new world, even.
TH: You put a lot of thought and intention into that piece, how did it feel to see it defaced?
RR: Yeah. When I saw it, I cried a little because it brought us so much joy to create that, only for it to be vandalized. But that's why The Eighteen is so significant, because we were a little emotionally hurt, but we didn't let it stop us. Maybe it made it more beautiful because it proved our point.
TH: It sounds like that moment brought you all closer. How has it been being part of The Eighteen Art Collective?
RR: I love it! It was more than just a mural; I think people can see that now. It's about humanity, it's about the arts, it's about culture. It's about the city, it's about history. It's divine order. I think about how everything had to line up for us to become this group, even me moving from Atlanta. And it just shows that if you see yourself in the arts that it's possible to live and thrive as a full-time artist.
TH: It definitely goes to show that life, while unpredictable, can be rewarding. How does it feel to be in the museum?
RR: I mean you talk about magic…my birthday is on Valentine's Day and the day I was born my mother was walking around the IMA. She had an emergency cesarean later that day. And now her daughter actually has her artwork in that same museum. If anything, I wish my mother was still here to be able to see that.
You can see Ruins to Redemption at Newfields through September 29, 2023. You can also find Rebecca Robinson's work at The Harrison Center at her solo exhibition titled Introspect (April 2023), at the Kurt Vonnegut Museum & Library, The Avenue Coffeehouse & Cafe, and soon in Hip Hop Anthology Vol 4 at the Central Library (June 2023). Rebecca is also a self-published author of the book Arts Honor: An Inspirational Dictionary Especially for Artists and Creatives.
Find her at psnob.com.
Exhibition Credit:
We. The Culture: Works by The Eighteen Art Collective is presented by Aaron Wealth Advisors, Gary & Hannah Hirschberg. Lead support is provided by Rachel M. Simon & the Herbert Simon Family Foundation and June McCormack. Associate support is provided by IceMiller and its Racial Equity Solutions Team. Additional support is provided by Judy Donner, Nathan & Deborah Oatts, and Emily A. West.
Image Credit:
Installation views of We. The Culture: Works by The Eighteen Art Collective in the June M. McCormack Forefront Galleries, September 23, 2022–September 24, 2023. All artworks © their respective creators.