Newfields Cookbook: Pumpkin Bisque
The beauty and bounty of fall doesn't end once the pumpkins have left The Garden. Newfields' Chef Patrick Russ makes a beautiful Blue Doll Pumpkin Bisque using pumpkins from Harvest Nights. Blue Doll Pumpkins will stay fresh on your counter for many weeks. This is a wonderful side dish to serve for Thanksgiving or throughout the holiday season.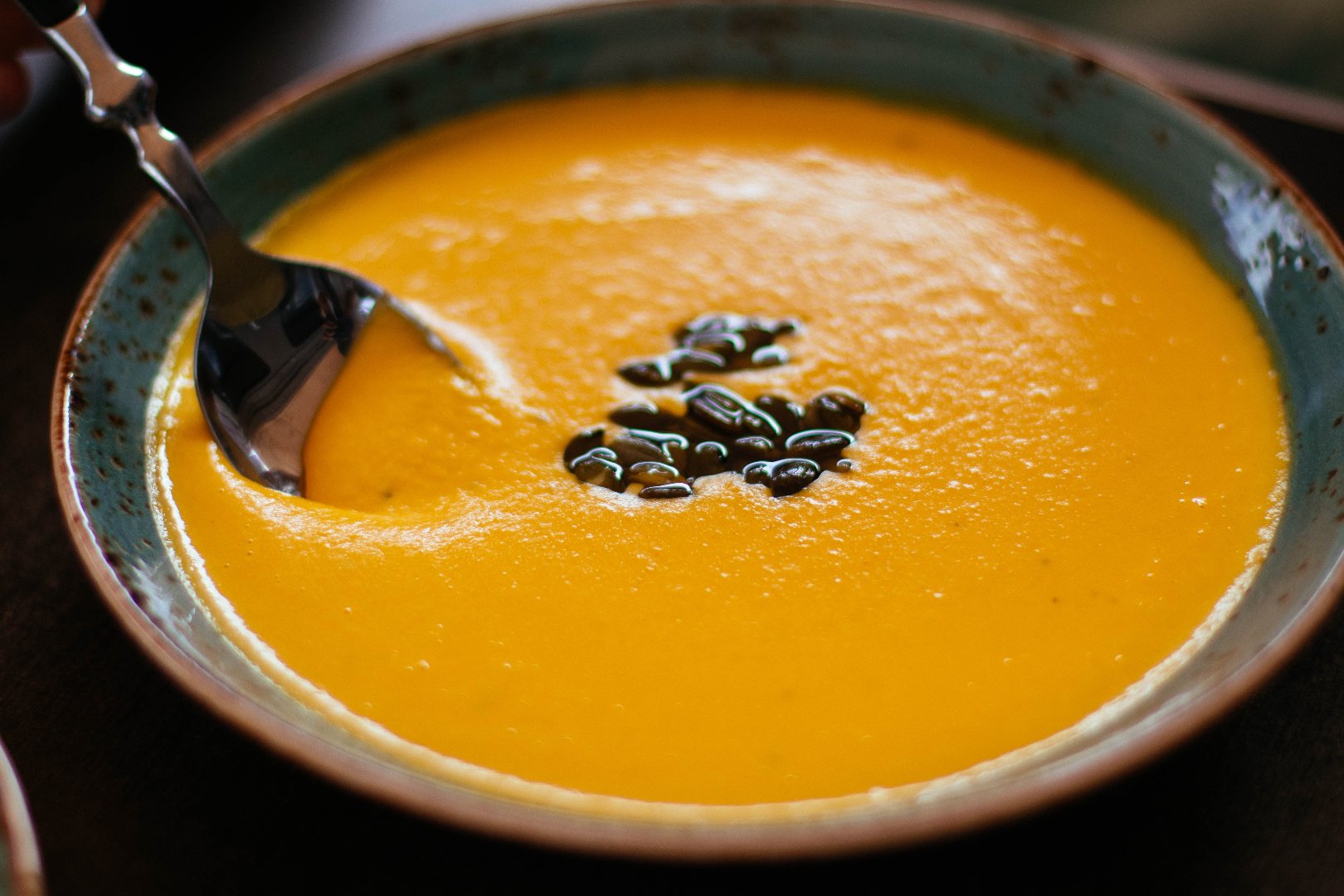 Serving Size: 4 cups
Time: About an hour and forty-five minutes
Ingredients:
1 tbsp - Extra virgin olive oil (EVOO)
2 cups - Pumpkin Whole, peeled, seeds removed & diced
1 - Parsnip, sliced
3 large - Carrots, sliced
2 cloves - Garlic, chopped
1/2 cup - Spanish Onion, diced
1 tbsp - Madras Curry Powder
1/8 cup - Light Brown Sugar
1 tbsp - Kosher Salt
1/3 cup - Canned Tomato
1 cup - Water
1/2 cup - Half & Half
1 cup - Milk
Directions
Over medium heat, gently cook the pumpkin, parsnips, carrots, onions, and garlic together for 10 minutes. Soften, but don't brown.

Add the madras curry powder and light brown sugar and cook for an additional 5-7 minutes, stirring constantly to ensure that the sugar doesn't burn to the bottom of the pan.

Add the remaining ingredients and reduce the heat to low.

Cook for 1 hour on low heat, stirring periodically to prevent scorching on the bottom of the pan.

Once the soup has reduced slightly and the vegetables are extremely tender, remove from heat and blend in small batches on high speed for 1 minute at a time.

Strain through a fine mesh sieve or strainer and adjust seasoning.

*Serve with crème fraîche, candied pumpkin seeds, and sage oil.
Image Credits:
Pumpkin Bisque. Photo by Valeria Boltneva. Pexels.