Through the Looking Glass
In April a revitalized American art gallery will debut at the Indianapolis Museum of Art at Newfields with an emphasis on connection and representation in a space where many have traditionally been left out. The exhibition entitled, Work in Progress: Conversations about American Art, will encourage guests to explore ideas about America through art. Though this exhibition will not answer tough societal questions the hope is that it will spark inspiration and challenge guests' views. Guests will be encouraged to speak honestly and openly about the topics being presented.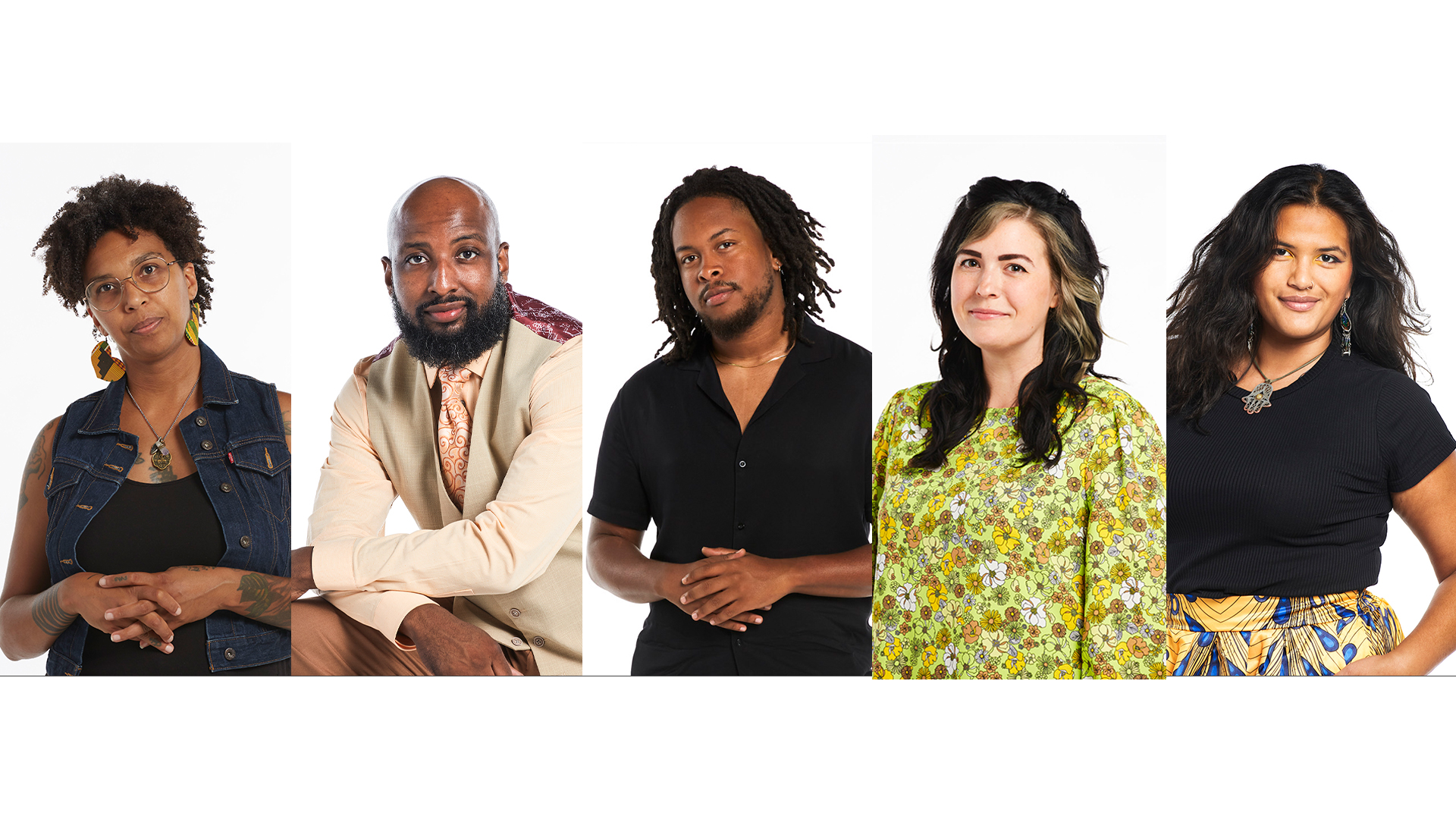 Members of the Looking Glass Alliance, from left to right: Tatjana Rebelle, Bobby Young, Kyng Rhodes, Jordan Ryan, Nasreen Khan.
As part of the reimagining of these galleries, the Indianapolis Museum of Art will work to decenter the traditional curatorial voice and include voices of people with different lived experiences. In order to accomplish this, staff reached out to a small group of individuals from the Indianapolis area to create content around the artworks on display. While the updated interpretation will bring in historical stories, the Looking Glass Alliance group will bring both historic and contemporary experiences not previously told at the IMA.
Guests can expect to see contributions from each member of the Looking Glass Alliance via thoughtful interpretation; some members will even present their own art in response to existing work in the IMA's American collection. Examples include pieces by Nasreen Khan, poems from Tatjana Rebelle, new paintings from Kyng Rhodes, Indianapolis-focused stories from Jordan Ryan, and a digital interactive on African American artists from Bobby Young. 

Work in Progress: Conversations about American Art will open this April. Until then, read more about the Looking Glass Alliance below and watch their Speakers Series here.
Nasreen Khan (she/her) is a writer, visual artist, teacher, and mother. She grew up in West Africa and Indonesia and has recently made a home in Indianapolis. Her teaching and artistic practices, rooted in questions of equity and earth-based spirituality, grapple with questions of belonging; celebrate cultural margins; and confront colonization, racism, and misogyny.

Tatjana Rebelle (they/them) is a mother, activist, writer, and spoken word artist. They have lived in Indianapolis most of their life and use their writing to give voice to their lived experiences as a nonbinary, first-generation Afro-German and queer person in the United States.

Kyng Rhodes is called to painting by his observations of society, a long-held love of graphic expression, and his own spirituality. Formally trained as a graphic designer, Rhodes moved away from commercial work to illuminate topics he hopes to see more collective reflection and dialogue around–environmental sustainability, care, and familial relationships.
Jordan Ryan (they/them) is an architectural historian, archivist, and activist-scholar, who works on built environment, land use, and other site-specific research projects under the independent consulting firm The History Concierge. Their scholarship centers on built environment history and policy, urban planning, historic preservation, marginalized communities, and spatial equity.

Bobby Young is an emcee, songwriter, producer, and learning specialist. He is also the co-founder of Native Sun, a band whose music promotes messages of peace, positivity, education, and self-love. He has performed at many noteworthy venues across the country including Red Rocks Amphitheater and The Fillmore Detroit.
Image Credit:
Members of the Looking Glass Alliance (front row) with Newfields staff members, Michael Vetter and Tascha Horowitz (back row), at the Newfields Speaker Series: A New Look at American Art with The Looking Glass Alliance, January 28, 2023.