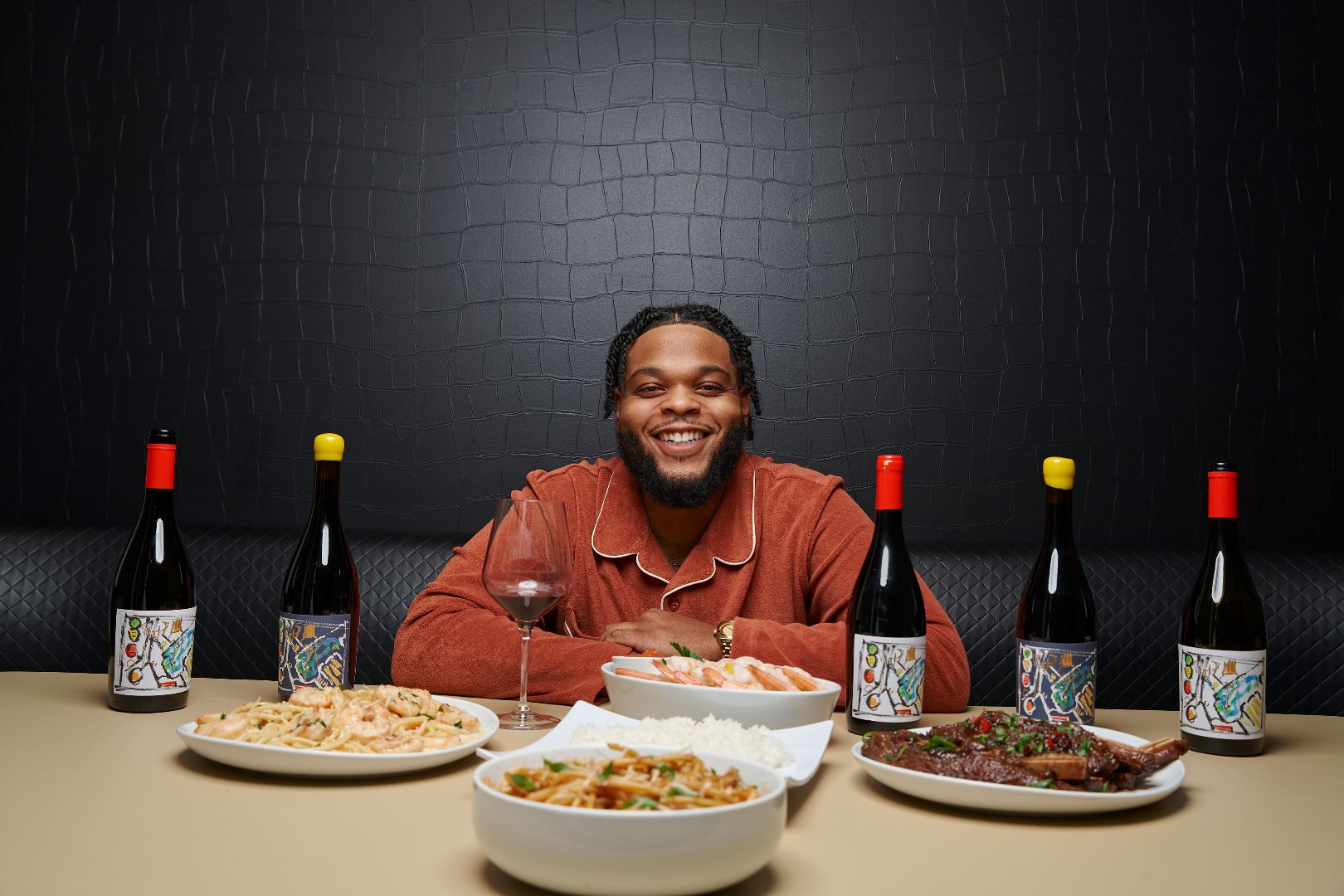 What's up! I'm Mike Gillis, also known as Mike G. I am a food and lifestyle journalist and entrepreneur here in Indianapolis. We. The Culture: Works by the Eighteen Art Collective features work from eighteen local, living, Black visual artists on the walls of the Indianapolis Museum of Art (IMA). But did you know? We. The Culture has a corresponding culinary experience just steps away from the exhibition that features three delicious original creations by local Black culinary talent.
A brief history of the culinary Pop Up space at Newfields for you. After extensive market research and a few successful food and beverage experiments, including The Beer Garden, Newfields developed a Culinary Arts Department in 2019 that was tasked with enhancing guest experience by centering food and wine the same way it centers art and nature. The culinary Pop Up space, on Floor 2 does just that—the curated food and beverage menus rotate with exhibitions and are an extension of everything happening at the IMA.
The first pop up opened in 2019 during Seasons of Japan with Pop Up: Tea House then Pop Up: Noodle, both inspired by a year of Japanese art and culture at Newfields. In the spring of 2020, it transformed to Pop Up: Pie as Edward Hopper and The American Hotel open in the IMA and served up apple pie and rich milkshakes. For the launch of THE LUME Indianapolis featuring Vincent van Gogh, they were serving up wine that Van Gogh likely drank during his time in France. Now, as an extension of We. The Culture, the culinary space is serving up my red wine 'Reflection' alongside beverages by Newfields' own Ari Mambo, and Tamika Catchings' Tea's Me Café.
Here is a breakdown of each beverage on the menu, what makes them great, and why you should give them a try.
Reflection: A Red Blend by Mike G.
I'll start with my own! Reflection is my own unique blend of barrel aged, vintage wine, made with freshly fermented grapes from Indiana and the west coast. It's a complex, but balanced taste, with notes of blackberry jam and just a hint of vanilla. The smooth tannins make for a full mouthfeel and a warm finish that lingers. It's perfect for these winter months and can be enjoyed by all from the wine novice to the connoisseur.
Aunt Mimi's Tea featuring Uncle Nearest 1856 Premium Whiskey
Newfield's talented Mixologist Ari Mambo is serving up this delightfully refreshing tea in partnership with Nearest Green Distillery. It's a grown-up version of a tea recipe her Aunt Mimi used to make for her friends and family growing up. This cocktail was made with everyone in mind, don't let Uncle Nearest Premium Whiskey in it scare you, it's a smooth drink.
Fun fact! Did you know, Uncle Nearest is named after the world's first-known African American master distiller, Nearest Green.
Japanese Cherry Orchid Iced Green Tea - Tea's Me Café
If you know anything about Tea's Me Cafe, you know they specialize in loose leaf teas sourced from around the world, always fresh, and really good. It's no wonder, because it's owned by Tamika Catchings, Indy's own superstar—a 4x Olympic Gold Medalist, WNBA Hall of Famer, entrepreneur, and philanthropist.
This tea is a combination of Japanese cherry and orchid blends. The Japanese cherry is a green sencha flavored with high-quality cherries. The orchid tea combines an array of flavors including strawberry, currant, raspberry, and cherry with orchid and rhubarb. Together these green teas make the perfect refreshing blend of fruit and floral.
So, this holiday season, while you are making a list of places to go and things to show your friends and family, make sure to add Newfields to the list. Bookend your visit to the impressive We. The Culture exhibition with a visit to Pop Up. It's the perfect pallet cleanser to a few hours viewing thought-provoking work in the IMA Galleries.
Exhibition Credit:
We. The Culture: Works by The Eighteen Art Collective is presented by Aaron Wealth Advisors, Gary & Hannah Hirschberg. Lead support is provided by Rachel M. Simon & the Herbert Simon Family Foundation and June McCormack. Associate support is provided by IceMiller and its Racial Equity Solutions Team. Additional support is provided by Judy Donner, Nathan & Deborah Oatts, and Emily A. West.
Image Credit:
Portrait of Mike Gillis courtesy of Jay Goldz.