We've been brewing up something special in the heart of the Oldfields estate. After five years in the Madeline F. Elder Greenhouse, a temporary space, The Beer Garden has a new permanent home at Garden Terrace. Guests will find a new and improved menu, more seating, and more charm than ever before. "No one else in Indy can do this. This is a restaurant and a garden, both with the same level of importance," said Rodrigo Jordy, Newfields' horticulturist who is responsible for Garden Terrace plantings.
The revitalized section of The Garden breathes life back into an important area of the Oldfields estate. In 1939 Mr. Josiah K. and Mrs. Ruth Lilly commissioned architect Frederick Wallick to design the Recreation Building, where they could host and relax. Now, guests can enjoy the same space to unwind with family and friends, surrounded by art and nature. The seating area is on the original footprint of the Lilly Family's 100,000-gallon outdoor pool.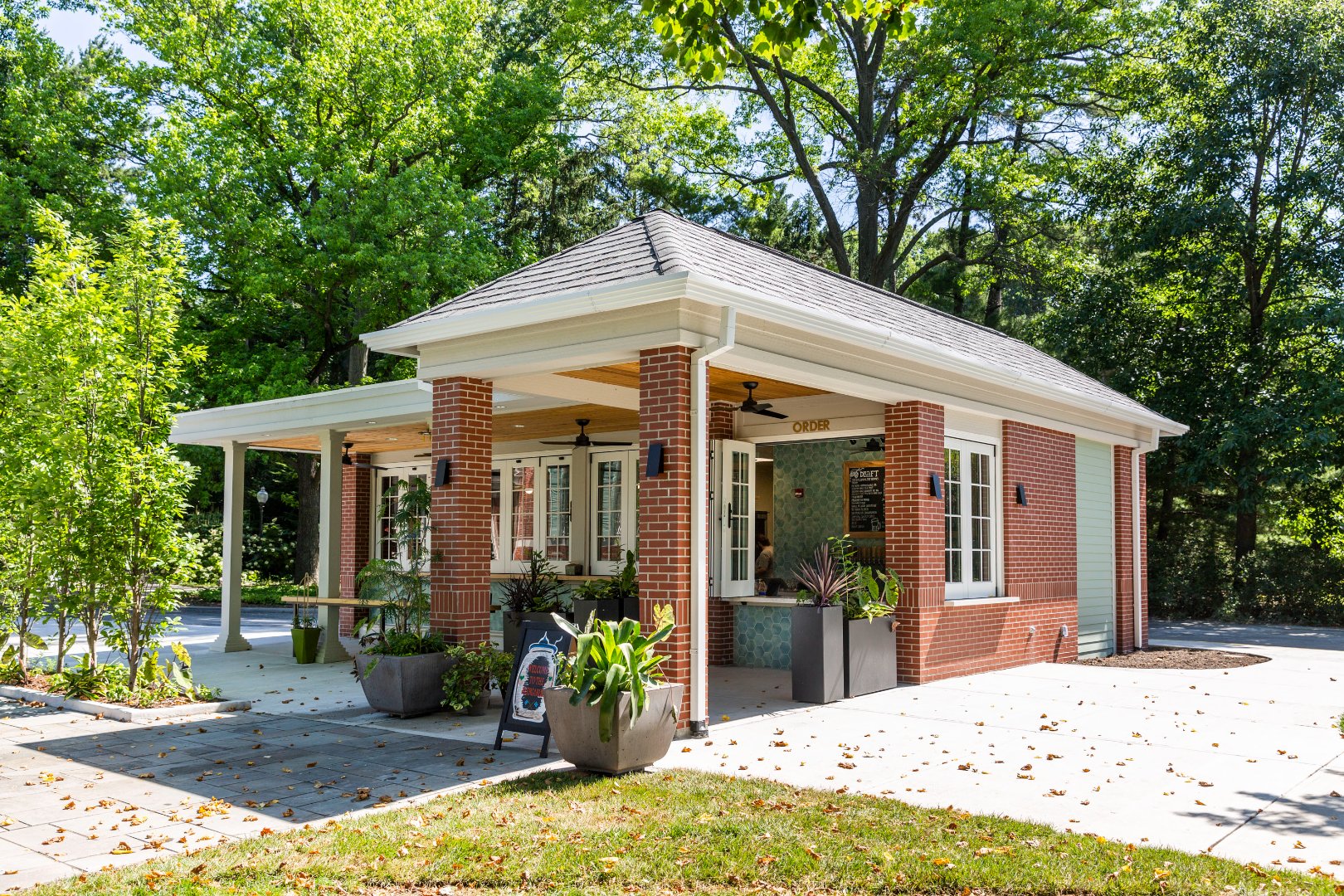 The Culinary Arts Department, led by Lindsay Jo Whirley, Assistant Director of Culinary Operations at Newfields, and Certified Cicerone (think a sommelier for beer), designed a food and beverage menu that is worth toasting. Whirley refers to the draft list as "Indy & Imports," meaning it features the best selection of brews Indy has to offer alongside some of history's best beers, from Sun King to Duvel. Garden Terrace is an all-draft menu, which will reduce single-use cans and bottles by over 10,000 units annually and provides an optimal drinking experience for our guests. Brews are served in proper glassware, just like you would see if you were at their home breweries in Belgium or Germany. For those looking to hydrate, non-alcoholic blueberry lemonade, root beer, and Tinker cold brew are all great choices.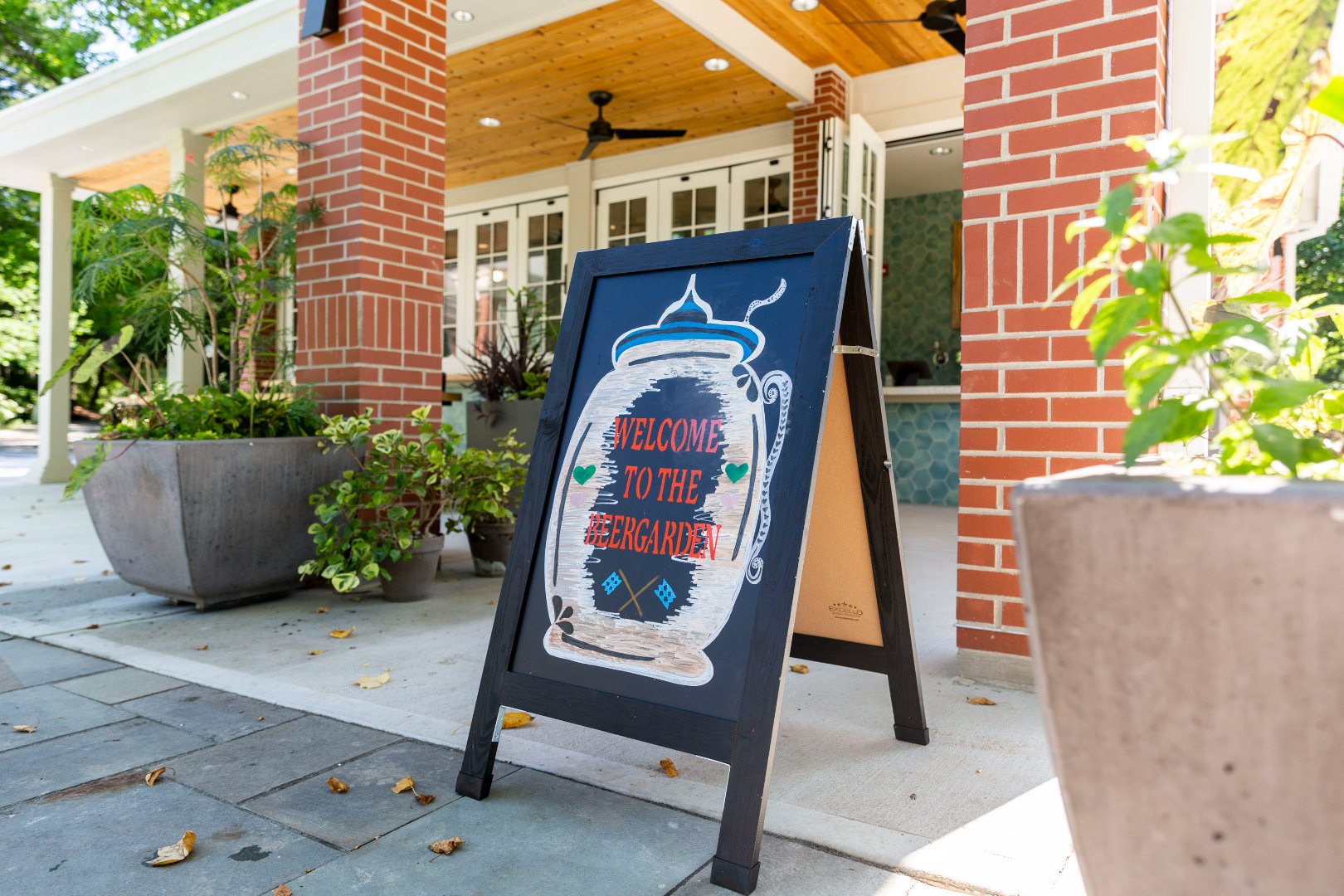 The new kitchen enables the Culinary Arts Department to finally be able to support a more robust food menu, with more filling options and kid-approved picks. You'll find the tried-and-true giant pretzels from Literhouse, and good old-fashioned snack mix, but you'll also find new crowd pleasers like grilled bratwursts on pretzel buns, summer veggie rolls, and 15-inch rainbow skewers (choose from fruit, veggie, or cheese and charcuterie options). The food menu, like the beverage menu, is inclusive of all adventure and hunger-level eaters and accommodates a wide range of dietary restrictions.
When sitting down with your drink, it is impossible not to appreciate the natural beauty that surrounds you. Horticulturist Rodrigo Jordy has created an atmosphere that feels warm and jovial. It's sunny and bright. "I want this garden to be dynamic and ever changing, so that people can appreciate the ephemeral nature of horticulture, something that is hard to find elsewhere," Jordy reflects. This spring's flowering plants were peachy pinks and creams, with lots of texture and frills throughout. This summer, you'll find red and silver plantings including, red sage (Salvia 'Roman Red'), cabbage-palm (Cordyline 'Red Star'), silver spurflower (Plectranthus argentatus), and cardoon (Cynara cardunculus) throughout the beds. Jordy has also incorporated edible flowers, herbs, and veggies like cardoon (Cynara cardunculus) and okra (Abelmoschus esculentus 'French Quarter Red') that will be used in menu items at the Garden Terrace. The beds surrounding Garden Terrace and throughout The Garden will use compost from food waste whenever possible.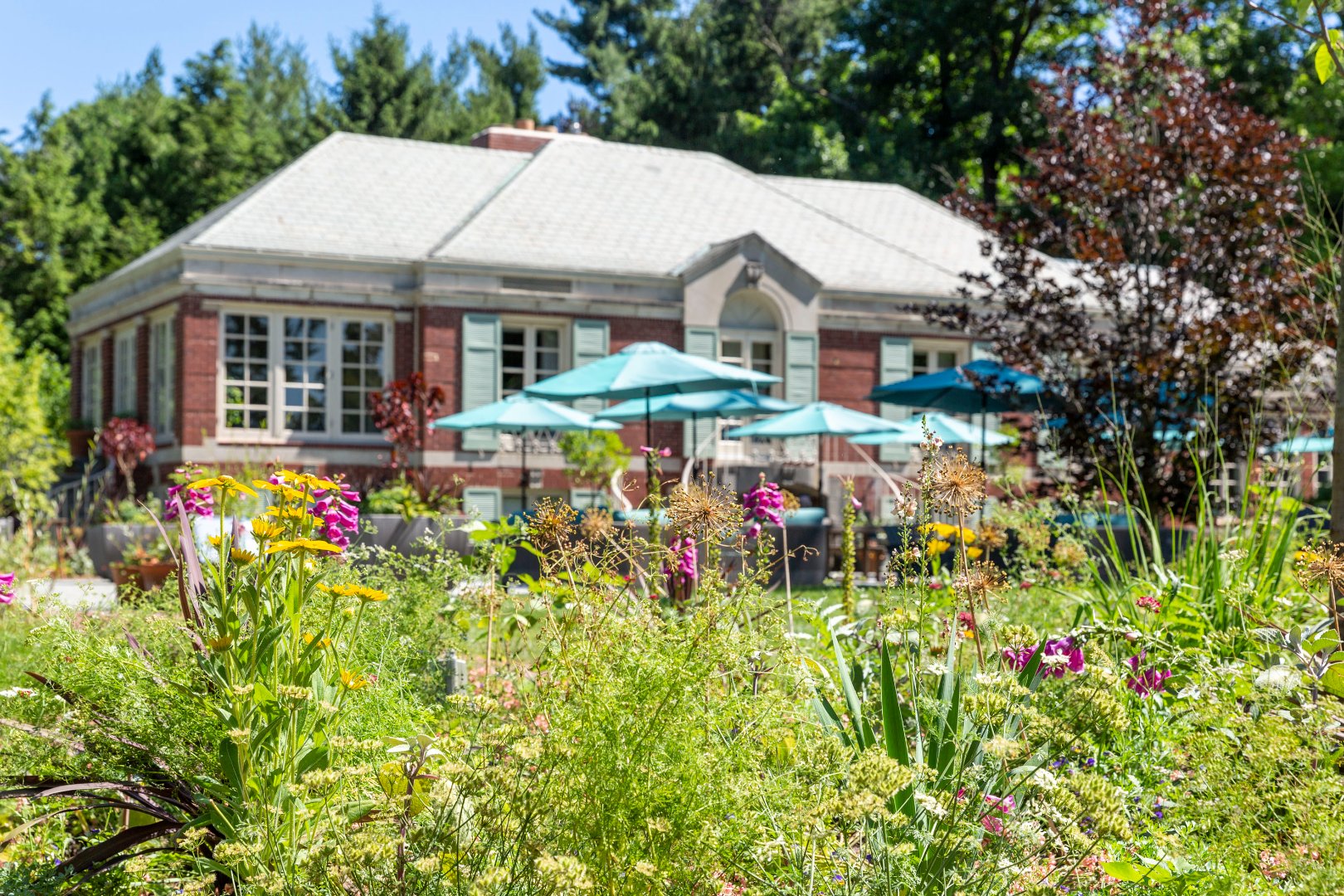 Cozy seating, selected by Newfields Exhibition Designer, Lara Huchteman, is charming but practical—you can choose from low tops, lounge seating, and long picnic tables to accommodate any group's needs. Under your feet and the dashing teal umbrellas, you'll notice a wave-like patio paver, a nod to the pool parties that were once had in the space.
The experience is quintessentially Newfields. Bring your family and friends and enjoy this beautiful space this summer.
You can learn more about the history of the building in this article, by Newfields' Director of Historic Preservation, Jean-Luc Howell.
Exhibition Credit:
Support for seating in the Beer Garden is provided by the Family of Bud Brehob.