How do artists take a stand when the murders of unarmed Black people are polarizing America? We create. We create as if our lives depend on it. Out of this tumultuous time, something beautiful emerged: a platform that evokes emotion and creates change.
In August of 2020, 18 artists met as strangers on Indiana Avenue in Indianapolis, Indiana to paint the message: BLACK LIVES MATTER. We answered a call that shifted both the trajectory of our lives and the culture of our city. Oft times, we reminisce on the organic nature of us coming together and the relationships that started that day.
One year after we painted the Black Lives Matter mural, we formed The Eighteen Art Collective, with a mission to collaborate for the betterment of Black creatives in Indianapolis and a vision to promote awareness and engagement of the arts by supporting local organizations, through education and mentorship, public exhibitions, and by being a resource for other artists. We stand up for what's right, push the envelope, and represent the culture.
Now, in November of 2022, we have an exhibition in one of the largest and oldest art museums in the country. Our work hangs on the walls in the Indianapolis Museum of Art at Newfields in our own featured exhibition, We. The Culture: Works by The Eighteen Art Collective. The Eighteen embarked on this exhibition with one goal in mind: for the museum collection and programming to reflect us. We. The Culture is proof this city's art scene is transforming—we are experiencing a cultural renaissance, and it isn't by accident. The Eighteen Art Collective, in partnership with the cultural development firm GANGGANG, has been a major factor in the evolution surrounding artists of color and the creative community. This isn't a moment. It's a collective movement to forever embrace Black artists.
Mali Jeffers and Alan Bacon, co-founders of GANGGANG, were instrumental in organizing the Black Lives Matter mural in 2020 where The Eighteen Art Collective first met. They are also co-curators of the exhibition with Shelley Selim and Tascha Horowitz at Newfields. This exhibition represents and emphasizes the beauty and goodness of being Black. Jeffers says, "Much of what we do is joy-based, love-based, programming-based, because we think that's the sustainable path towards actually ending racism." We. The Culture is bigger than we are. It is an opportunity to blaze new trails for living artists and pave the way for the next generation.
We. The Culture is more than an exhibition. It is more than art. It is hope for a better future. It is a step in the right direction. For the past two years we have worked to ensure our message is heard. It is evident in the work we produce. When we show up, we speak our mind through our artistry, for the culture. For years we were made to think that we were chasing something that we already were.
In our collective, we are not only artists, but also college professors, chemists, musicians, and public speakers. Many of us have degrees in the art field, from graphic design to art history. Others have degrees in communications, chemistry, fashion design, and sociology. We are inspired by graffiti art, hip hop culture, Afrofuturism, character illustrations, and digital design with varying incorporations of symbolism. Meeting and taking a stand against racial injustice through art was just the beginning. We have since formed an art collective that pours back into the community from whence we came.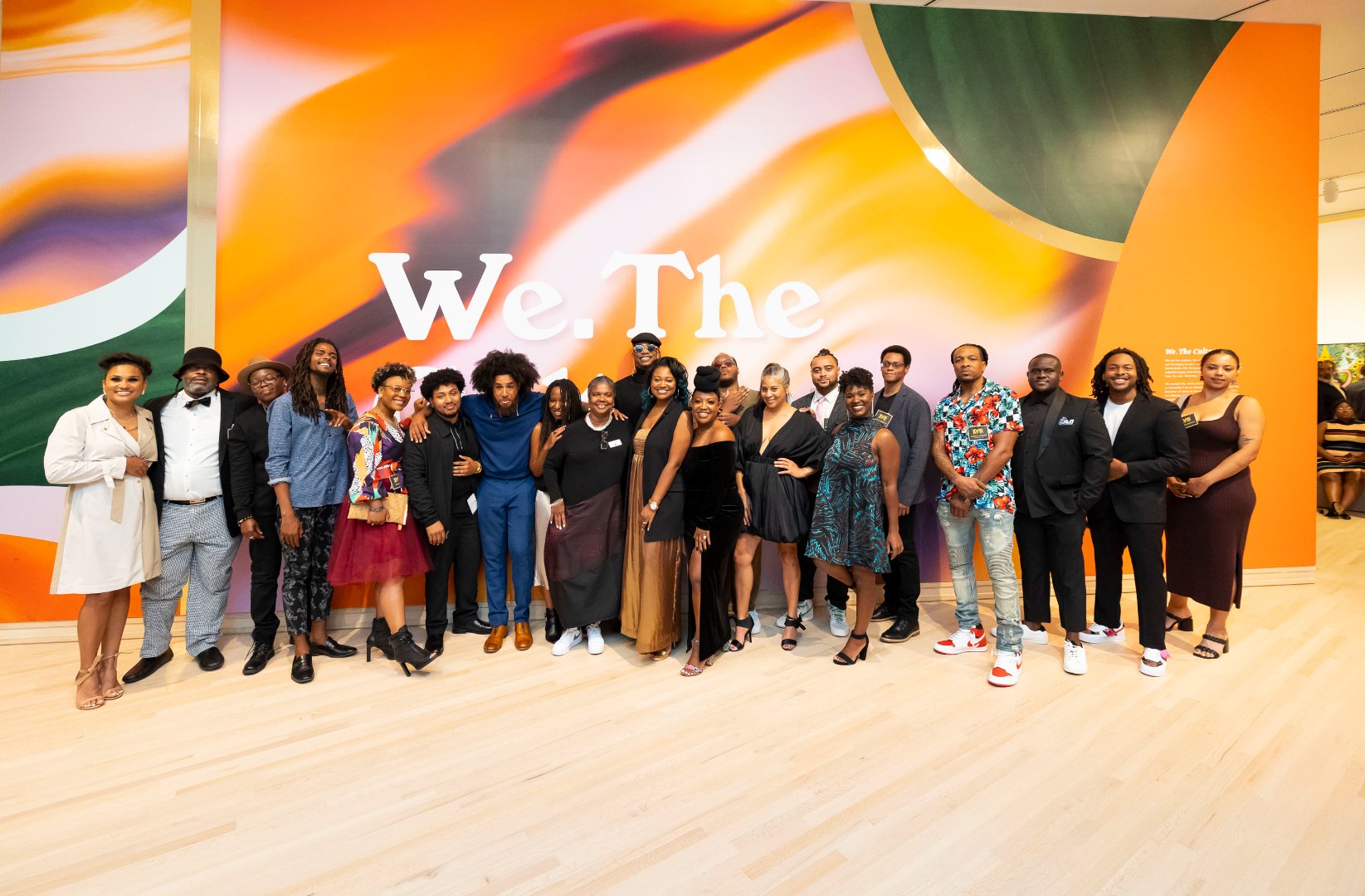 We ARE the culture. This imagery is needed. We are necessary. We are the flavor, the energy, the pulse, the oxygen to the world. This exhibition is about exploration and evolution. Evolution of 18 individual artists. Evolution of a movement. Evolution of thought and consciousness. Evolution of awareness and change. We used our collective voice to inspire.
To the XVIII:
Thank you for your courage.
Thank you for your creativity.
Thank you for your vulnerability.
This is not an accident.
This is for the culture.
So many talented artists of color came before us and paved the way. We will always be reflective and respectful of their legacy. And in that same vein, we also feel a responsibility to support and nurture leaders of the future. We want to be a haven for up-and-coming creatives. We recently graduated our first class of nine students from our Young Artists Program which launched earlier this year. We will continue to be involved in programming at Newfields throughout the run of the exhibition including these upcoming events and we hope to see you there.
Newfields Speaker Series: We. The Culture talk by GANGGANG founders Mali Jeffers and Alan Bacon presented by Bank of America
Monday, December 12 / Free for members and guests / Advance registration required
We. The Culture. Family Weekend
December 17 & 18 / 11 AM to 4 PM
Included with general admission and free for members / Advance registration required
Exhibition Credit:
We. The Culture: Works by The Eighteen Art Collective is presented by Aaron Wealth Advisors, Gary & Hannah Hirschberg. Lead support is provided by Rachel M. Simon & the Herbert Simon Family Foundation and June McCormack. Associate support is provided by IceMiller and its Racial Equity Solutions Team. Additional support is provided by Judy Donner, Nathan & Deborah Oatts, and Emily A. West.
Image Credits:
Aerial view of the Indianapolis #BLACKLIVESMATTER street mural, 2020. Scott Crone Photography for Visit Indy.
Installation views of We. The Culture: Works by The Eighteen Art Collective in the June M. McCormack Forefront Galleries, September 23, 2022–September 24, 2023. Artworks © their respective creators.
Members of The Eighteen Art Collective stand with Dr. Colette Pierce Burnette, President and Chief Executive Officer of Newfields, in front of the title wall to the exhibition We. The Culture: Works by The Eighteen Art Collective.